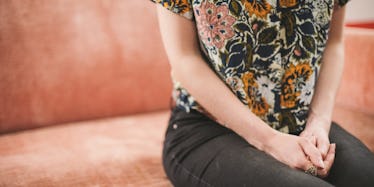 How My Cousin's Suicide Changed The Way I View Mental Health
Eleanora Grasso
Six months ago, I lost my cousin to suicide. He suffered from depression for about four months before he decided to end his life.
This not only affected me in the psychological sense, but it also made me want to get out into my community and learn about the steps we can take to prevent things like this from happening.
At school, I decided to meet with someone who was recovering from depression. I found her through another friend I knew previously.
After talking to this girl for hours, I realized that one way to fight depression is by really listening to what a person is feeling.
Listening to the things someone has to deal with (that we don't have a way of understanding) and lending a comforting shoulder for them is one of the many steps to helping someone get better.
The girl I spoke with wanted to remain anonymous, so she will be referred to as Bailey.
Bailey told me she was secretly suffering, sleeping with knives, crying in the shower and thinking no one would miss her if she was gone during what are said to be the best years of one's life.
Her story begins before college. She found it difficult to make friends and never really felt like she fit in. She was bullied throughout her childhood, making it hard for her to trust others.
Luckily, it was her best friends who found a suicide note she had intended to leave behind, and they were the ones who pushed Bailey to get the help she needed.
I found another student at my university who suffered from depression and attended our Wellness Center to get help.
This student, Paola, said her first therapist wasn't very attentive. "It was as if my issues weren't big enough for her. Sometimes just listening to someone is more than enough," she told me.
I spoke to a licensed psychologist who works at the Wellness Center, and he mentioned the importance of a strong support system.
He said that helping one develop resiliency to trauma is one of the important steps in overcoming depression. I asked what he thinks is the most effective way to prevent suicide, and he introduced a study performed on the mentally ill who had just been released from a psychiatric ward.
In the study, there were two groups. The researcher sent letters to one group, but not the other. These letters were meant to serve as a reminder that there is someone willing to help, regardless of distance.
The licensed psychologist said the study was not ethical because of the risk it allowed the control group to be in, but it proved a point as to how a community should deal with depression and suicidal thoughts.
"The people who received the letters had a lower rate of suicide," he said. "[There is a] power in human connection to help support people's resilience."
This is exactly what the Wellness Center provided for Bailey during the summer of her sophomore year, which was her lowest point in her depression.
"At that point, I had a strong support group," Bailey said, reassuring that her roommates were always there to make sure she made it through another day.
The Wellness Center was able to provide medication and treatment for Bailey, but unfortunately, not for long.
After 12 sessions with a therapist, Bailey described, the patient is expected to find another therapist because of the school's high demand for help from the Wellness Center.
The psychologist mentioned that, although the Wellness Center recognizes the problem, it would be impossible to have enough staff members for all of the students who need help.
It would be impossible to have enough staff members for all of the students who need help.
Students should begin to help one another during difficult times, especially if one is having suicidal thoughts. It's important to remember that the first step in recovering from trauma is to seek help.
"Just talking to someone can make all the difference," Bailey said about her experience with recovering. "And the Wellness Center gave me exactly what I needed, in that sense."
It is important to remember that life gets better, and the first step in recovering from trauma is to recognize the damages and seek help.
After several attempts at ending her life, Bailey is glad she lived to be able to see things she never expected, like her 21st birthday and the year 2015.
"My experience with depression is difficult to talk about, but if I can help someone get out of the pain I was feeling, sharing my story is worthwhile," she said.
After talking to Bailey about her depression, I was extremely motivated. I wanted to get out and create a new system at our school to help those who needed the support.
That is particularly difficult, especially when one is not sure how things work in a school's counseling center.
What a person CAN do, however, is listen.
Be there to help those who need the support. Be their helping hand.
In the end, when the person is finally able to break free from the depression and the suicidal thoughts, it will all be worth it.
My cousin may not have felt this support system, and that was a tragic loss for my family. But I'm working my hardest to ensure no one else in my life ever feels that way.
What a person CAN do, however, is listen.