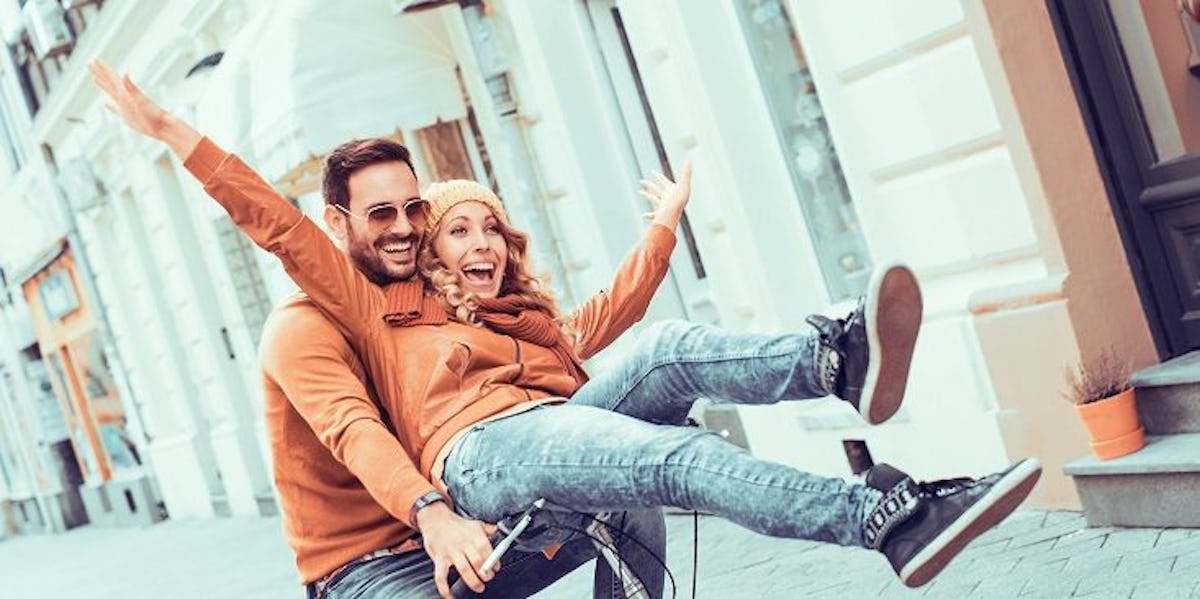 10 Fun And Spontaneous Fall Activities For The The Non-Homebody Extrovert
Ivanko80/ Shuttershock
Home is where the heart is, but if you're a merciless extrovert like myself, being a homebody (even during the fall) is literally impossible. Isn't the point of seasons changing that you can actually see and experience the beauty of it all? It's doubtful that that can be acquired from sitting at home chilling on the couch, right?
Fall may be the time to start getting bundled up, but it doesn't necessarily mean staying cooped up in the house. There are things to do, people to see, and extroverts are determined to explore their options. If you're dreading the idea of staying in the house this autumn because your personality isn't built for that, feast your eyes on a few of these seasonal activities meant for every extrovert.
1. Go On A Hayride
OK, let's get going with the changing season. Going on a hayride will give you a crisp taste of what fall has to offer. Enjoy the scenery, and if you're up for it, even try your luck on a haunted hayride.
2. Have A Bonfire By The Beach
Hey, some extroverts can't quite let go of the beach just yet. As long as you're wrapped up and warm, who says the beach is off limits during fall? Now, how would you like your s'mores?
3. Take A Winery Tour
The great thing about wine is that it can be enjoyed all year long. There are even wines that pair especially well with fall, with potent spices that will give you all of the amazing seasonal feels. Cheers to wine and its classy AF nature.
4. Go To A Drive-In Movie
Drive-in movies are literally timeless. As much as you can watch the same movie on your living room couch, there's something awesome about watching it in your car on the full screen. Make your car super comfy with plaid blankets and pillows, get your favorite snacks, and enjoy. Bonus points if you have a pickup truck.
5. Plan A Cozy Cabin Getaway
Vacations aren't only privy to the summertime. A lot of places are in their prime time during fall because of the scenery. Finding a cabin to crash for a weekend with some friends would be a great way to kick off the season.
6. Go Leaf Pile Jumping
Remember when we were kids and we'd exhaust our poor arms making piles and piles of leaves? Well, our adult selves still want to jump in them. Get your cardio in and your childhood back at the same time.
7. Take A Cooking Class
Learn a few new recipes this fall. You might even learn how to make use of those fall fruits and vegetables that have started to make their way into grocery stores. There's a lot more than just pumpkin out there, you know.
8. Attend A Sip And Paint Event
Did I mention wine already? A sip and paint event will not only get your creative juices flowing, but it'll give you a chance to explore the tasty wine that's being poured. Whoever created this activity needs to be hugged every damn day.
9. Tailgate A Football Game
Even if you aren't a hardcore sports junky, tailgating is fun. You meet all kinds of people, like diehard fans or gameday veterans. So, get your face paint ready and join in.
10. Go Apple Picking
It's time to get your Betty Crocker on. Apple picking is not only relaxing, but there's so much you can do with the fruit afterwards. Collect enough to make endless amounts of apple pies.
If you're an energetic extrovert like me, you don't let the seasons dictate what you do or get you down. Fall shouldn't be intimidating; it's an opportunity for new adventures. We can't control the changing seasons, but we do decide what we do with them while they're here.