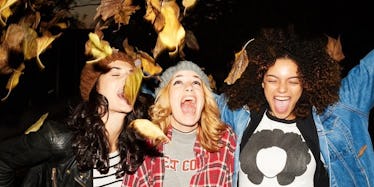 Your September Horoscope Is Here, And The Confusion Of Mercury Is Over
Guille Faingold/Stocksy
Summer has come to a dramatic end, with the solar eclipse of last month happening right in the middle of the Mercury retrograde period, and the lunar eclipse happening before that. Tonight is a full moon in the sign of Pisces, and Mercury retrograde has finally gone direct, so the effects of last month's solar eclipse might have waited to make themselves known until now. Remember, the effects of any eclipse are time-released, so you can feel them happening for six months after they occur. August was in many ways a month that served as a bridge to the future. Your September 2017 horoscope will give you more of a glimpse into all that could be headed your way now that Mercury isn't clouding the issues.
It appears to be a good month, too, because given everything the planets have in store for us, whatever happens, we're going to be feeling optimistic about it. Misunderstandings are clearing up, projects will begin to move forward, and contracts are ready to be signed. The future, my friends, is now. So get out your calendars and start jotting down dates. September is going to be busy AF.
Aries & Aries Rising
Aries, if you haven't noticed already, the first week of September probably brought you some opportunities to create more love and romance in your life. If the Labor Day weekend didn't create something lasting, it at least had the power to create something memorable. The New Moon in Virgo on Sept. 19 will turn your attention to your work and daily responsibilities, although you'll be feeling the pressure in this area of your life starting Sept. 5 through Oct. 22.
The Sept. 19 New Moon will just amp up the volume on these assignments, so use the first three weeks of September to circulate for romance.
Taurus & Taurus Rising
Taurus is going to feel a fresh new outlook with the oncoming fall weather, as your focus will be on love, romance, and playtime with friends. You'll have the chance this month to be out and about, having fun, circulating, and making memories.
Your focus will be on your home and personal life at the time of the full moon Sept. 5, so it's a good time to plan a major event with your sweetie or attend one because you're likely to meet someone fine AF. Whether you're attached, married, or single, this is a month for romance. Other important dates include Sept. 15, and Sept. 19.
Gemini & Gemini Rising
Gemini, your chart is lit up all over the place this month, which means you'll feel like every area of your life is buzzing with activity, especially now that your ruling planet Mercury has gone direct. On Sept. 3 or 4, Mars may have unlocked the message of last month's solar eclipse on Aug. 21, when it reached the same degree it was in on that date.
You may have received some important news on that date. The full moon on Sept. 6 is in your tenth house of honors, which means that something will be coming to a close you can feel very proud of. Sept. 15 and 17 are good times to travel if the opportunity presents itself, and on Sept. 28, Pluto will make it easier for you to start managing your money a little better.
Cancer & Cancer Rising
Uranus in your tenth house of career fame and honors leads to a surprise in this first week of September with an assignment that could take you out of town or at least out of your comfort zone and offer you the chance to make good money while doing it.
This month is about communication, and the better you communicate, the higher you will climb; choose your words carefully because right now they have extra influence on your future. Sept. 12 brings more income in the form of a client who sings your praises or a raise you've been asking for, or a new client willing to pay more for your work. On Sept. 15, you could find a good deal on a home or new furniture for the one you have now. The end of the month is ideal for traveling locally if you need a break.
Leo & Leo Rising
Sept. 6's full moon (or up to four days after this date) will bring a culmination to some financial issue you've been having. Because Neptune (the planet of dreams and secrets) plays such a big role, you could find out something that was being kept from you, so keep an eye out for that.
The rest of the month your focus will remain on finances, either how to make more money or to manage the money you have now. If you need to sign a contract, wait until Sept. 15 to make it happen.
Virgo & Virgo Rising
Mars moves into Virgo on Sept. 5, the same night of the full moon and the same day that Mercury goes direct. Having Mars in your sign gives you considerable control over the direction of events in your life, where the actions you take are less likely to have unintended consequences.
Mars in your sign also gives you an edge when it comes to any competition you might be up against either professionally or recreationally this month. All of September, you're likely to be turning heads, and having the Sun in your sign, you'll feel like the spotlight is on you. Take advantage by setting any goals you have and really going for them this month. You're likely to make good headway.
Libra & Libra Rising
This month will have a strong influence on your health and your creativity. Your twelfth house is lit AF, meaning that any health issues that arise on the full moon of Sept. 5 (plus or minus four days) will be ones you probably didn't see coming.
You may have to go back and get clarification about a health issue you hadn't paid enough attention to before, and following that, your focus might be on your own subconscious, clearing up any cobwebs you have in your own mind. Make sure to take some time for solitude, as clarification comes from self-care.
Scorpio & Scorpio Rising
You had a major eclipse last month in your career sector, and you might still be cooling off from it. But if you didn't hear any news around eclipse time, you will most likely be hearing about what this eclipse had in store for you now.
The inciting events that an eclipse brings about could take up to a month to make themselves known. Keep an eye on what happened Sept. 2, and on what will happen Sept. 21 to get the full message. The entire month, your focus will be on your career, and new assignments are likely to come your way. If you feel like you cannot manage it all, keep going. You are capable of great things this month!
Sagittarius & Sagittarius Rising
This month we have Venus in Leo for three weeks, in your house of work projects, which means your daily responsibilities at work will not only go smoothly, but they will have an almost social quality to them. That, or any events you attend in your personal or social life could lead to more work opportunities that you might find more profitable than the job you are in right now.
Keep an eye out for Sept. 12, when a work project is likely to come up that seems too good to be true. It isn't. Take this opportunity by the horns and go for it.
Capricorn & Capricorn Rising
Energetic Mars moves into your ninth house of foreign affairs and philosophical curiosity. You'll find yourself feeling more energetic than you've felt in quite some time and with the ninth house focus, you'll be interested in new experiences, broadening your horizons in new ways.
When Venus moves into your sign on Sept. 19, your charisma will increase and you'll find yourself turning heads easily. You might also be prone to spending more money than usual, but you'll make up for it when the sun moves into your career sector on Sep. 22. After that, you'll find yourself working like crazy and enjoying it.
Aquarius & Aquarius Rising
Last month was a social time for you, but this month (especially around the full moon Sept. 5) you'll find yourself hunkering down and focusing inward. This is most likely related to a creative project or a work assignment, and it's likely that you'll easily be able to find help for these endeavors, if you want it. For the remainder of the month, your desire for intimacy will increase, as Mars moves into your eighth house of buried desires, passion, and sex.
All this could tie together to influence your projects by adding a depth to your work that will impress even you.
Pisces & Pisces Rising
This month is all about partnering up. There is a lunar eclipse in your sign on Sept. 5, and it's likely to bring about a realization or a watershed moment that could change your mind about the way you've been organizing your life and set things in a different direction. You have to step outside your comfort zone and demand more of yourself.
The chances are, you already know what you want deep down and have either not made a move yet or are waiting for the right time. The moment you decide to move forward, you'll see opportunities arise that you never knew were possible. Follow your highest excitement.