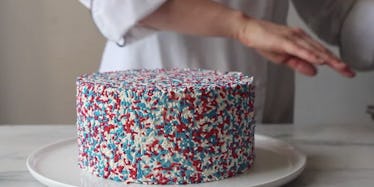 11 Red, White, And Blue Cakes That Will Make Your Holiday So Much Sweeter
YouTube
Raise your hand if you have a major sweet tooth. Yeah, me too.
To be honest, sweets are the way to my heart, and this Fourth of July is looking extremely delicious as far as the dessert spread is concerned.
Whether or not you end up making any of these Instagram-worthy red, white, and blue cakes, enjoy wasting an hour or so swooning over the effort these bakers put into them.
Here are 11 Fourth of July cakes that will definitely put that sweet bang in your holiday fireworks.
1. Red, White, And Confetti
Everyone loves a good confetti cake, am I right? This layered cake, complete with a sparkler on top, is cute and delicious.
2. Patriotic Crumble Cake
I love this recipe, because it's the perfect solution for those of us who hardcore struggle in the kitchen. Put your botched cake to good use, people.
3. American Flag Cake Pops
Don't believe anyone who tells you cake pops aren't real cake. They are, and these American flag pops are the perfect holiday-inspired treats for kids and adults alike.
4. Stars, Stripes, And Layers Cake
This complicated cake is actually a lot easier to make than it may seem, and your guests will be hella impressed with your #BakingSkills.
5. American Top Hat Cake
Give a nod to Abraham Lincoln this Independence Day with a cool top hat-shaped cake. Your guests will appreciate the starry surprise when you take the first cut.
6. Red, White, And Blue Tie-Dye Cake
This unique little cake is sure to be hit at your party. And you know what's even more exciting about it? This dessert highlights divine coconut frosting, and is topped with white chocolate ganache. Yum!
7. Fourth Of July Jell-O Cake
OK, maybe Jell-O isn't exactly your typical cake. But this wiggly dessert is just too fun to pass up. It deserves an invite to your party, like ASAP.
8. Ice Cream Cone Cupcakes
Are you throwing a party with lots of kiddos around? They'll go crazy for these adorable cupcakes that literally look like ice cream cones.
9. Pop Rocks Firecracker Cakes
Can we just give these mini cakes some attention, please?
The middle is filled with Pop Rocks, so when your guests take a bite, they'll be oh-so surprised with a real firecracker effect.
10. Red, White, And Blue Ice Cream Cake
This is how you take a cake to the next level, especially when it's hot AF outside. Guests will love the red and blue icing layered over these ice cream sandwiches.
11. Patriotic Poke Cake
Give your friends a little taste of the South with this holiday poke cake. Let's not forget the best part: blueberry pie filling.