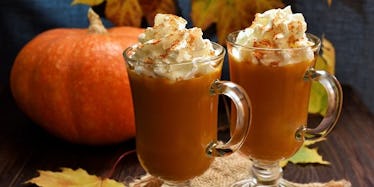 12 Easy Pumpkin Spice Latte Tutorials Perfect For Every Lazy Girl
voltan/Fotolia
Pumpkin Spice Latte season is almost upon us. We've been patiently waiting for the day we could head into our favorite cafe and order this delicious seasonal drink once again. The PSL truly is the ultimate sign that fall is here, and it's time to get warm and cozy. The only problem is, we are so warm and cozy in our sweaters hiding under our blankets that getting up to go and physically get a PSL sounds almost impossible. If you're lazy like me, you're probably already Googling how to make a Pumpkin Spice Latte from the comforts of your kitchen.
I want my whole diet this fall to consist of all things pumpkin spice. Anything that tastes like Pumpkin Spice Latte gets the green light. So, with these 12 Pumpkin Spice Latte tutorials, I can make all of the PSL treats my heart desires. The best part is, since I can make them at home, I can make them for myself all year round. I don't have to count down the days for the PSL to come back. I can finally fulfill my dream of having fall all year round. You just need a few simple ingredients, these recipes, and a lazy girl's desire to be able to just do it at home.
1. A Homemade Hack On The Starbucks PSL
This Starbucks PSL hack uses fresh ingredients you can find at any local grocery store. Instead of using store-bought syrups, you can make your own. This way, you know exactly every ingredient that's going in your PSL.
2. A Light And Healthy Take On This Seasonal Favorite
This version of the seasonal beverage is a good option for anyone who wants to reduce the amount of sugar in their daily dose of PSL. The maple syrup, pumpkin puree, and homemade almond milk make this drink come full-circle. Yum.
3. The OG, Iced, And Frozen PSL
This tutorial shows you how to make the Pumpkin Spice Latte three ways. First up is the original hot latte recipe. Then, the tutorial walks you through an iced and frozen version of the PSL, so you can mix things up depending on your mood.
4. Pumpkin Spice Latte Muffins
If you're looking for something to pair with your PSL, here's a delicious recipe for Pumpkin Spice Latte muffins. It's fall, so why not make every meal PSL-themed? Your palate will thank you.
5. Only A Handful Of Ingredients Go In This PSL
If you're looking for a Pumpkin Spice Latte recipe with only the ingredients you already have in your kitchen, this one is perfect. There are only a handful of things you need for this tutorial. It makes shopping easier for the laziest of people.
6. No Stove Required For This PSL
You don't need to heat anything up for this simple recipe. You just need a coffee maker or even a coffee pod machine, like a Keurig. No extra heat is necessary, so this one is actually easy if you live in a dorm room.
7. PSL Cupcakes Are Fall Staple Items
If you're looking for something more than just a drink, here's a PSL cupcake recipe. It's basically like a latte in tiny cake form. It's the perfect treat for any fall parties you're going to.
8. A Pumpkin Spice Frappuccino
If you live somewhere warm, you'll most likely want your PSL frozen. Here's a pumpkin spice frappuccino recipe, just like the one at Starbucks. No matter what the weather outside is, you can always have a PSL.
9. Only Five Ingredients In This PSL Recipe
This PSL tutorial requires only five ingredients. That makes shopping for this drink super easy. You'll be in and out of the store, and enjoying your PSL in no time.
10. PSL Chocolate Chip Banana Bread
Now that you're in the PSL mood, you're probably thinking of what other food you can make that's pumpkin spice-flavored. PSL chocolate chip banana bread is a lot to say, but it's so easy to make. It has everything you could ever want -- chocolate, bananas, and PSL.
11. Meal Prep PSL To Enjoy Every Morning
This meal prep tutorial is perfect for the lazy girl who lives for the PSL. This recipe is simple, and allows you to store Pumpkin Spice Lattes for the whole week. You only have to put your kitchen skills to work once, and you get to enjoy your favorite fall drink whenever you want.
12. A Pumpkin Spice Latte Cake
You can top off your PSL recipe journey with a cake. This tutorial is easy to follow, and leaves you with a rich cake to savor for dessert. Thank gosh it's fall so we have a good excuse to make these delicious treats.