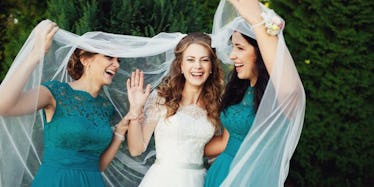 22 Pinterest-Perfect Poses For Wedding Pictures With Your Bridesmaids
Myronovych/Shutterstock
Your girl squad has been there for you during the good and the bad. They've been your shoulder to cry on, so now it's time to celebrate together. As you inch closer to your wedding day, your besties will be by your side to keep you calm and level-headed.
On your big day, you and your bridesmaids will look nothing less than the best. You've been planning for months down to the last tiny detail, and it's finally time to show off all your hard work. Grab your girls and your photographer to capture these once-in-a-lifetime pictures with your bridesmaids.
1. Take an example from these sorority sisters.
A Gamma Phi Beta sisterhood is not 4 years, it's for life! You'll find your future bridesmaids! tamucc21 @GPhiBTAMUCC #rushgammaphi #ΓΦΒ pic.twitter.com/flxvAIETD3 — Felicia Chavarria (@mrsfeliciachav) July 23, 2017
2. A candid laugh is always classic.
Breathtaking Sophia and her bridesmaids sparkling in our sequin gowns. Shop the dress on: https://t.co/ucQT7VPonz #Goddiva #GoddivaGirl pic.twitter.com/PoZPHd8i5H — Goddiva.co.uk (@goddivafashion) July 17, 2017
3. Include the groom for a small group photo.
These bridesmaid dresses though We love everything about this photo! See more at https://t.co/TeW65y385q... pic.twitter.com/MW38GrkTeQ — UKbride (@EditorUKbride) July 17, 2017
4. You can always try to get a few laughs.
They've got her back but he'd steal her heart anyway.#Wedzo #IndianWedding #Wedding #Bridesmaids #BrideTribe pic.twitter.com/nTyMsiAvX3 — Wedzo (@wedzoIN) July 17, 2017
5. Replace the bridesmaids with groomsmen, if they'll be good sports.
Do you like this idea?? When the guys replace 'bridesmaids'..Photo via twitter #sugarweddings https://t.co/vyC0buwANO pic.twitter.com/p4Cm3Im85I — Ms. Sugar (@SugarWeddings) July 17, 2017
6. When in doubt, recreate the Bridesmaids movie poster.
Get the bride and her girls to pose like the cover of "Bridesmaids"! yessss have to do this!!! pic.twitter.com/H7iJY0qryW — Kayden Garver (@KaydenGarversti) July 17, 2017
7. Show off the beautiful mismatched bridesmaids gowns.
Please RT #weddings #brides The Case of the Mismatched Bridesmaids https://t.co/uqBeywaqYN pic.twitter.com/XYRDwR90xP — Romantic Wedding (@romanticwedd) July 16, 2017
8. Zoom in on those stunning bouquets.
Trying to decide on mismatched bridesmaid dresses? Read these pros & cons first: https://t.co/v2wIG92olw : Brumley & Wells pic.twitter.com/M6oENW7xVQ — mywedding (@myweddingdotcom) July 16, 2017
9. Put your arms around each other for a casual portrait.
Can you say, "Bridesmaid Goals"?! These stylin' ladies are #onGWS: https://t.co/Lr0dcFEDUJ pic.twitter.com/k2vsQkAN1S — Jen Campbell (@grnweddingshoes) July 16, 2017
10. Have a little fun at a local bar.
This is funny...but what I really like is how all the bridesmaids are in a solid orange dress and th pic.twitter.com/viqlToxA53 — Isiah Wright (@IsiahWrightGuy) July 16, 2017
11. Keep your color scheme in check for a beautiful balance.
Love this photo from @hbaxterphotography of our gorgeous bride Sophie and her beautiful bridesmaids at @peckforton… https://t.co/Zw7L8YIkwo pic.twitter.com/a8ZlEdBrPV — Laura MacPherson (@LaurelWeddings) July 16, 2017
12. Snap a pic from the back to show off flowing dresses.
BRIDAL PARTY GOALS Gorgeous flowy bridesmaids gowns via @jennyandgerrys #bridesmaids #bridesmaidsdresses pic.twitter.com/XFRKQTJrgf — Eternal Bridal (@EternalBridal) July 16, 2017
13. If your bridal party is a little daring, don't be afraid to get a bit... cheeky.
What do you think ladies? Cosmo says this is the next big thing in bridesmaids photos!! Cheeky huh pic.twitter.com/xgZV4Xh52F — TDR Bridesmaids (@tdrbridesmaids) July 16, 2017
14. Keep the eyes on the bride.
Please RT #weddings #brides How One Bride Styled Her 12 Bridesmaids to Perfecton https://t.co/7e8TfB8JLo pic.twitter.com/yiGT1WBzSb — Amazing Weddings (@allweddingss) July 16, 2017
15. Take a new kind of mirror pic.
Bride and bridesmaids getting ready for wedding. Wedding photo ideas pic.twitter.com/JfJv0N2Mud — Helen Farahnak (@HelFarVie) July 16, 2017
16. Just be your sweet, sassy selves.
Bridesmaids pic.twitter.com/rJBBGq7m9T — (@BlaqThumbelina) July 16, 2017
17. Get a little artsy with your bouquets.
CULT BUY: The bridesmaid dress that suits any shape or size. (Yes, really.) https://t.co/hnbYUcJ08M pic.twitter.com/s7o7TsgxFx — Mamamia (@Mamamia) July 15, 2017
18. Include a cute prop for some extra whimsy.
So sad to hear @AlfredAngelo stores are closing my bridesmaid dresses are from them pic.twitter.com/8Qobe5NaUm — kg (@kherr409) July 14, 2017
19. Surround the bride on her big day.
from @slrlounge - 8 Fun Bridesmaid Poses https://t.co/bJ11h8JTXf #tips #photography pic.twitter.com/M78JrMdiWh — Joe Sturgess (@Sturge87) December 12, 2015
20. Try a new take on a classic pose.
Via @2lifeWeddings CIRCLE OF FRIENDS Get creative and dream up some fun poses to try for pics with your bridesmaids pic.twitter.com/Kgohon6yzw — Linda Sanabria (@lsanabria17) October 12, 2015
21. L.O.V.E.
Funny Wedding Photography Poses | ... fun bridesmaid wedding photo and can also ... - ... - http://t.co/Al90CsgKwi pic.twitter.com/A7UnBDOefm — Funny Clone (@funnyclone) October 8, 2015
22. Look through a scrapbook of memories together on the big day.
Kelly's bridesmaids created a special scrapbook of memories as a surprise for her! #gettingready #mpwweddings #bridesmaids pic.twitter.com/5lhs81rvTl — Rachel Griffin (@weddingtalk1) July 17, 2017