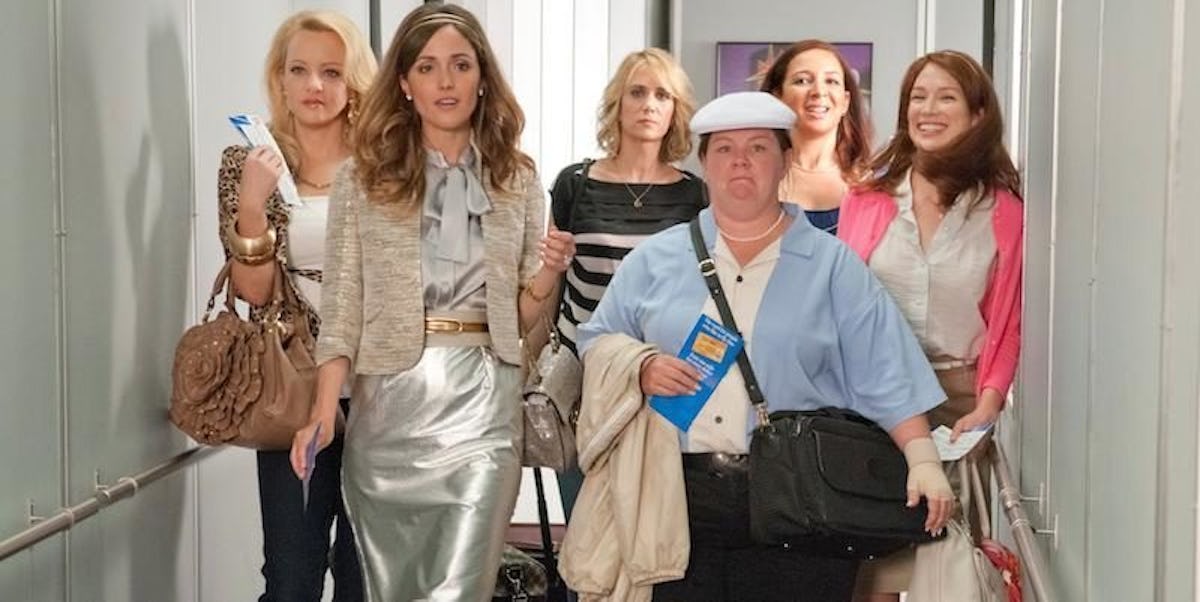 9 Bachelorette Party Cities Your Friends Will Be Pumped To Travel To
Apatow Productions
Chances are, you've already had a friend or two get engaged around the holidays this year.
The chances are even greater that you'll know more people getting engaged between now and Valentine's Day because — that's right — it's that time of year again.
Even if (for right now) you find yourself screenshotting the latest proposal to your group chat, gossiping about the ring and complaining about how your beau is far off and you're forever alone, know there's a light at the end of the tunnel for all of you.
No, I don't mean that love is in the air for you.
I mean you're forgetting what your friends getting engaged means.
It's time for bachelorette parties.
Sometimes, this could get a little stressful if your friend is looking to travel abroad, or if you have multiple parties around the same time.
Either way, I think we should all be looking forward to this time of year.
Bachelorette parties give you the opportunity to catch up with friends you probably haven't seen in a while.
They give you a great excuse to take a vacation and an even better excuse to be as wild as you'd like, all while celebrating with the future bride.
So, while you may be pouting you're not ready to tie the knot, I hope you're at least ready to take a shot (or few).
Now, let's get down to where you should go.
There are many great places in the US you could suggest to the bachelorette.
Get excited for the travels and friendship to come in one of these tempting destinations:
1. Las Vegas, Nevada
Any girl who has been to Vegas knows how fun Sin City can be.
For anyone who has yet to go, I'm sure it's high on your list.
Prepare for the best nightclubs in the country, jaw-dropping shows, outrageous pool parties and gambling opportunities to brush up on your blackjack.
The strip is bound to leave you with unforgettable stories you'll all take to the grave.
2. Miami Beach, Florida
This city is great to live in, but it's likely even more fun just for a visit.
Your bachelorette party can take to South Beach, with its world-renowned infamous nightclubs, fantastic restaurants and amazing pool parties.
Since it's sunny and warm year-round, this is a good option no matter the time of year.
3. Nashville, Tennessee
Some would say this is an unlikely spot, but those people have probably never gone out on Broadway.
This city is where I'm planning my personal bachelorette party. (Yes, I know I need a boyfriend first.)
With its bigger than life honky-tonks, Pedal Tavern and good old southern cooking, you'll all be singing along to the tune of this trip for years to come.
4. Austin, Texas
Everything is bigger in Texas. That means the party is, too.
This city has been up-and-coming for a while now, and it's an ideal place to celebrate the bride's last hoorah.
Have the time of your lives and consume too many tacos for anyone's good.
Y'all haven't properly partied unless you've done it in Texas.
5. Charleston, South Carolina
This destination is perfect for your southern-style party.
Go gallivanting around Charleston's historic district for the low-key bar scene or ritzy nightlife.
Stay in a boutique hotel or at the beach, and don't forget to check out The Cocktail Club.
It's a foodie's dream.
6. New York, New York
This is the destination for a "Sex And The City" type of party.
Celebrate on rooftops, prepare for the shopping experience of a lifetime and give cheers to an endlessly fantastic skyline.
This is one city a bachelorette will never regret going to on one of her last weekends as a single gal.
7. New Orleans, Louisiana
There's no better way to say goodbye to the single life than with debauchery on Bourbon Street.
Kiss the single days goodbye with the perfect combo of hand grenades and beignets.
There's adventure to be had in the city that's always celebrating with jazz, Creole food and good times.
8. Napa Valley, California
One word: wine.
Okay, so the area has more to offer than just wine, but that should be enough to convince your bride to plan her party there.
Revel in the beauty of the region, relax at one of the many spas and absolutely take a wine tour through the different vineyards.
9. Savannah, Georgia
This city is ideal for a true girls' weekend.
Try tours like Boos and Brews or the Martini Tour.
Experience the many bars by River Street, and book a stay at the Mansion.
You also can't go wrong by venturing to the Historic District and tasting some of the fantastic Georgia eats.
Other notable mentions include Vail, Denver, Chicago, Orlando, Dallas, Atlantic City and San Francisco.
I bet you're going to start looking at your Facebook News Feed a little differently now, am I right?
The year 2016 is starting to look better already, but make sure you check out these tips to make the bachelorette party a weekend to remember.
Bring on the engagements.
I'm ready for the bachelorette parties to begin.