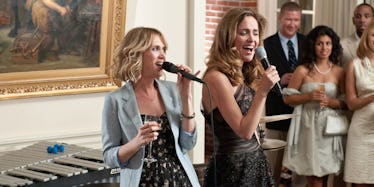 12 Ways To Throw Your Bestie The Perfect Bachelorette Party
Universal Pictures
At the mere age of 24, I've already thrown a few successful bachelorette parties. For a #ForeveAlone, single woman like myself, you might assume this would be tortuous work.
Yet, it always turns out to be a really great time, and you can look at it as a practice round for when it's your turn.
There are some key things I've learned from this experience (other than how expensive it is), and here's how to avoid throwing a cheesy bachelorette party:
1. Make sure there is penis décor
Sites like Etsy and Party City have tons of great decorations for your hotel room, and things to adorn yourselves with when hitting the town.
I suggest the penis confetti (although hotel staff may disagree), penis straws and, most importantly, the penis blow-up "doll."
2. Don't be a virgin
Stock up on alcohol, like champagne for the room, and try getting customized wine bottles for the party for some added flare. Just leave the hard liquor to the lucky buyers at the nighttime destination.
3. Plan in advance
You'll be surprised how quickly hotels and restaurants get booked up. Bachelorette parties require some work, and the hardest part might be confirming or rounding up a likely dysfunctional guest list.
4. Speaking of guest lists, be smart
Make sure everyone your bride needs is fully informed and invited. But, also help make the decisions on the people who would bring the party instead of impede the fun.
5. Pick a place with nightlife
Sleepovers were fun when we were 12, but now it's time to take it out to bars and clubs and live up the last of the bride's (legal) single life.
Going together will always be a good time. Dance with the girls, and flirt with bachelors (because free drinks are always a plus).
6. Choose an alternate for a male stripper
Instead of spending money on a stripping fireman, use that money for a spa deal or wine tasting package.
Sure, it's a fun thing to watch, but most women would agree we'd like to be primed and pampered more than teased.
If you still need entertainment, consider a fun drag queen show instead.
7. Customize your party games
Many bachelorette party games can be extremely cheesy. Instead, do your research and have a DIY scavenger hunt based on the bride. That'll make it much more memorable than awkward.
8. Have late-night and early-morning needs
Plan on having snacks and drunk foods for when you come home at night.
Secondly, make sure to have waters, Advil and mimosas or Bloody Mary mix on hand for the "I'm never drinking again" mornings.
9. It's actually fun to match
Whether you make clever t-shirts, give the bride a veil tiara or make sashes and name tags, the cheesiness actually brings the members of the party together. It also helps you make an entrance anywhere you go.
10. Beware of budget
The biggest buzz kill will be women complaining about the cost, or worse, not going because of the cost. Be mindful of who's coming and what's available to them monetarily.
There are plenty of amazing destinations that don't come with a Vegas price tag.
11. Have a banging playlist
Make a Spotify playlist, or a CD if you're old school, in advance. Bring back some 90s hits, and make sure all of the songs you sing along to on the radio are on there. Get ready for a dance party.
12. Bring good vibes
The main ingredient of a great bachelorette party is great people with great moods. Realistically, you could be anywhere in the world, but the people you're with will make the time memorable.
So, bring your smiles, your laughter, your dance moves and your game faces.
Coming from a single girl whose newsfeed is forever cluttered with engagement rings and wedding photos, I'm still insanely looking forward to all of my friends' bachelorette parties.
Even though it seems like the whole world is getting married (while I'm still trying to get a second date), I know I have some amazing parties to look forward to. And hey, maybe I'll even meet Mr. Right at one of them.
Bring on the party, y'all.