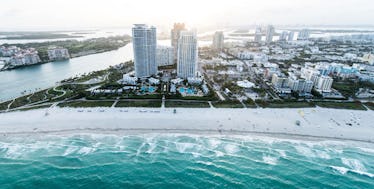 6 People, 7 Places And 8 Events That Make Miami A Great Place To Live
Shutterstock
Miami is seen as an adult playground that plays its music too loud and stays up way t0o late for its own good.
When someone thinks of Miami, he or she probably thinks of fist pumping at LIV until 5 am (until it's time to go to Space), and people-watching on Ocean Drive while drinking over-priced margaritas.
Miami has a bad-boy reputation, which is just one of the reasons people flock to this sinful city.
However, the locals know it as something different.
We see it as a place embedded with culture, brimming with personality, bursting with innovation and smelling of damn good Cuban cuisine.
We know the hidden gems, the secret places and the true experiences of Miami Dade tucked away throughout the city.
We are armed with the magic that lies within this city and the people who grace it.
Here are people, places and events that make Miami the great city it is:
The People
1. The Flower Man: You've seen him somewhere during your commute. He walks up and down during the red lights, selling sunflowers as big as your face.
2. The Domino Men: Without fail, these older gentleman will sit on Calle Ocho armed with stories and a superior Dominos strategy. They're probably sipping on cortadito and reliving their glory days at Ball and Chain.
3. The Speedo Men: We love to hate them. Without fail, if someone visits you, he or she is bound to run into one of these men (hopefully not too close though)!
4. RM Drake: You know you follow him on Instagram. Well, he's a Miami local and during Art Walk, he'll mark the sidewalks with his soul-quivering quotes.
5. Pitbull: Obviously, he had to make the list. This is Pitbull nation, and the fact of the matter is, you best respect that.
6. Miami Heat: Need I say more?
The Places
1. Knaus Berry Farm: Did you know you could pick your own strawberries in Miami? Well, you sure can. This farm comes with a great story and cinnamon rolls so good, they'll change the way you think about life.
2. Food In General: From the hole-in-the-wall Cuban restaurants (where I met Nick Jonas once) to some of the world's best tapas and worldly cuisine, Miami has it all. There is not enough I can say about the ridiculous explosion of flavor that comes from empanadas, croquettes and other delicacies secretly scattered throughout the city.
3. Bars In General: Forget LIV, Story and Wall. Instead, there are chill wine spots with assorted chairs and dangling lights, like Lagniappe or clubs that shadow as a taco shop that make you walk through a port-a-potty to enter, like Bodega. We have places that exist for you to make memories like they're out of the movies.
4. Sandbars: This is the ultimate location for your Sunday Funday. There's no better way to take advantage of Miami's amazing weather than by meeting all your friends via boat right off of the coast.
5. AC's Icees: You'll never forget your first sip. The frosted beverage comes in three flavors and the recipe is top secret. Imagine a line of 100 people waiting on a Saturday; yeah, it's that good.
6. Wynwood: You probably have a super-filtered picture on Instagram against these walls, but I'm still keeping it on the list. There is art and culture that breathes off of these partitions and its inspiration grows by the day.
7. Museums and the Like: There's Villa Vizcaya, Bass, Bake House, Art Walk, Perez Art Museum… and that little thing called Art Basel. We showcase art like no other.
The Events
1. Floatopia: Twice a year, the southernmost part of South Beach will become populated with hundreds of floaties. You'll connect via ropes with strangers and bond over some Café Patron while dreaming of a grilled cheese at Big Pink afterward.
2. Critical Mass: At the end of every month, all the bikers get together to pedal around the beautiful city they get to call their home.
3. Soundscape: Within season, the city will air great movies on the wall of the New World Symphony in South Beach. A field of people turns into a BYOB picnic in the heart of tourist central.
4. Great Grove Bed Race: Watch as local businesses race to the finish line using ridiculously decorated homemade beds. Oh, and last year's Grand Marshall was Vanilla Ice.
5. Festivals: Within one year, I've attended book festivals, art festivals, BBQ festivals, beer festivals and seafood festivals. You name it, we celebrate it.
6. Outdoor Gym Classes: You have to stay fit for year-round swimsuit season, y'all, and what better way to do it than in the outdoors? We have bootcamp, yoga, Pilates and more, all looking out on the water that glistens as much as you're sweatin' #werkit.
7. Refresh/LAB/Citadel/Pipeline: There are genius minds occupying Miami and these are just a few outlets that fuel their ambition. Startups are growing and innovation is cultivating here at a rapid pace.
8. O Cinema/Speak: This is an indie cinema that presents diverse genres and then a spoken-word poetry event that will literally leave chills on your skin for days. We got soul in Miami — there ain't no doubt about it.
To sum it all up, living in Miami is living in paradise. Did I capture everything? Of course not.
This is partially because I don't want to give away all our best secrets and because if I wrote every great thing about Miami, you'd be sitting at your computer screen long enough for the words to start blurring together until you think you're reading Spanish.
The city is more than you think and so are the people who inhabit it.
We're a cultural eruption, and it doesn't get any better than these endless sunny days.
So, let us cheers to the city and cheers to just convincing you to move here, too.