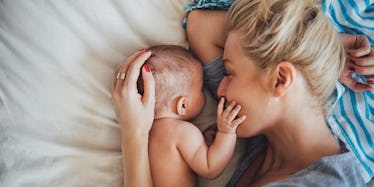 5 Millennial Moms On What They Wish They Would've Known After Giving Birth
I'm so excited about this post, for several reasons. I may be biased because I have history with these ladies, but I think all of these moms you're about to hear from are superheroes.
I've watched them embrace motherhood while successfully juggling both their personal and professional lives. You'll see they all have very different professions, yet there is one thing that links them together: the love for their children.
I have asked most of them for motherly advice repeatedly over the past few months. Their positivity, stories and wise words have provided me guidance and reassurance because they've been there and done it all themselves.
Since I have a little one on the way, I wanted their new mom advice for my own personal use. No one is more credible than those who have walked the walk, so I wanted to share their incredible advice with you, as well. They have a lot to say, so I won't bore you with anymore of my amateur pregnancy mumbo jumbo (for today).
Here are five moms with their best pieces of advice for their fellow new mothers:
Angie
Profession: Dance instructor and studio owner
Favorite Product: Boppy Pillow. It's a great thing to have through the months for nursing, tummy time, learning to sit up and feedings as the baby grows.
Angie has a 1-year-old son named Grayson.
As a new mom, I felt very overwhelmed with the fact that I had to care for another human and be able to give it everything it needed as it grows. But, I learned you cannot let the little things get the best of you, and everything will be OK. Read the baby books. They're very helpful. Although most things are instinct and come naturally as a mother, I still find myself referring back to the books for information. Most importantly, every baby is different. Everyone has their opinion, and most the time, it doesn't even apply to you. Teaching at a dance studio, you can only imagine how much advice I get from moms in the hallway. I appreciated it all, of course, but a lot of it wasn't necessary or relevant to me at all. Write everything down. Even if it seems silly at the time, you are going to want to look back to see when things happen. You will be surprised at how easily some little things are forgotten. Enjoy every moment with your little one, but most importantly, sleep when they sleep. Cleaning and organizing can wait. You need your sleep to keep your sanity. Believe me.
Sarah
Profession: Marketing project manager and account supervisor
Favorite Products: JJ Cole Infant Car Seat Arm Cushion, Blooming Bath Plush Baby Bath and Sophie La Giraf.
I knew Sarah was pregnant when I bought her a bottle of pinot grigio for "Bachelor Wine Night," and she didn't pour a glass right away. Sarah now has a 7-month-old daughter named Peyton (aka Ms. P).
Be confident, but don't be too afraid to accept help. After having your little one, when you're in the hospital about to be released to take them home with you for the first time, it can be a little scary thinking about caring for this tiny fragile little baby all on your own. There are no more nurses on standby to help when you need it, to show you the perfect swaddle (for the fifth time) and to give you advice on how to bathe your baby. Let's be honest: Nothing is ever going to make you feel 100 percent comfortable with what you are doing. But, that's a normal feeling. Everyone is anxious and nervous, but don't let that get the best of you. Enjoy this precious time and be confident in yourself. After your first couple of nights at home with your peanut, you will naturally feel much more confident caring for him or her. Also, don't be afraid to take your neighbors up on that casserole they offered to bring by. Most new moms are too afraid to ask for or accept help, but as you adjust to this new lifestyle, accept all the help you can get. I understand you want your baby all to yourself, and you don't have to give that up. Accept help with everything else – the cooking, cleaning, laundry – so you don't have to worry about anything but your little one those first few weeks. You will have enough to think about, and those close to you will enjoy helping in any way they can. So, let them.
Stephanie
Profession: Owner of "Stephanie's Cupcake Company"
Stephanie tried out about 24 part-time jobs to help provide for her family before discovering her niche as a successful business owner (currently bowing down to this lady). She's a mother of three to Dominic (8.5 years old), Lucas (2.5 years old) and Mia (5 months old).
Being a mom of three (two boys and a girl) has led to plenty of good, bad, scary, happy, emotional and hilarious experiences. You can plan for these things, but you can't predict them. Women are unbelievable. I've never been more proud than after I have completed another day successfully raising two children under 2 years of age. It's an amazing feeling. My advice? It's OK to be late. Messes happen as fast as you can clean them, so do it later and love on them now. You may be tired, but someday you won't be, and you might actually miss it after all.
Molly
Profession: Construction estimator
Favorite Product: Vibrating bouncy chairs.
Molly has a 4-month-old son named Grady. Grady weighed 10 pounds, 10 ounces at birth, and at 3 months, he was already in 9-12 month clothing. I think Molly has a future athlete on her hands.
Don't forget about 'Mommy Time.' This is key in the first few weeks after you come home with your bundle of joy. Actually, this is still pretty critical for me after four months. Don't let go of things that keep you, you. Take a nap when grandma comes over. Take a shower (without having to seat your baby outside the door). My friends and family used to make fun of me because I have always needed 'Molly Time.' While time to myself looks a little different these days, it is still very important to my mental state.
Hannah
Profession: Commercial portfolio manager
Hannah is the proud mommy of 2.5-year-old Beau.
Lay your baby in the crib as early and often as possible. Because I breastfed, I thought it was easier to sleep with Beau on my lap (on a boppy) for easy access when he was hungry. I was so tired that I didn't want to keep laying him down and then getting him up every time to feed. He got used to sleeping on my body and feeling my heartbeat and body heat. Here I am, 2.5 years later, and he is in my bed every night at about 2 am. Don't be afraid to reach out for help. Beau had reflux and GERD, and he cried pretty much all day every day until he was about 4 months old. My husband was working, and when I was still on leave, I tried to just "handle it" because I was the mom and was at home. There were days when I just wanted someone to take Beau for an hour so I could shower or take a nap. Looking back, my friends say, 'Why didn't you call me when Brad was at work or on the weekends? I would have helped.' Don't be afraid to reach out to friends and family and just say, 'I need a break,' 'I need time to relax' or 'I need time take a bath, run, get a coffee, etc.' People will help, and anyone can handle a crying baby for at least one hour. I also should have told my husband I was struggling and tired. I tried to be so tough, but I needed him to help more with the baby. He eventually learned, but in the beginning, it was hard. Next time, he will be helping more because I won't try to act like I can handle being awake 24/7.
This article was originally published on the author's personal blog.