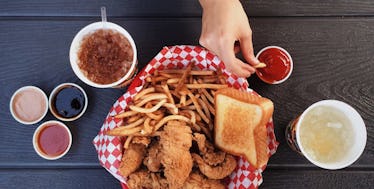 4 Reasons Any Music Festival Lover Should Book A Trip To Downtown Nashville
B. Harvey
Unless you're a Millennial who grew up in the South, you probably didn't listen to country songs. But, I'm here to tell you the genre as well as the capital of country music should be on your radar. Growing up in Los Angeles, I used to say I liked all kinds of music except country, but one trip to Nashville changed everything.
I recently got to experience Stagecoach for the first time. Hanging out at the Budweiser Country Club drinking beer out of leather koozies stamped with "Made in the USA" reminded me of those late nights in Nashville. The sound of music coming from all directions and the energy throughout the venue is the heart and soul of any good festival, and Downtown Nashville's music scene is home to that same energy. It's known as the country music capital, so the late-night air is thick with music. You can't help but feel the lure of the honky tonk as you walk down Music Row on Broadway Street.
With summer music festivals coming up and that feeling of wanderlust creeping in, there's no time like the present to plan a Southern getaway. As a newfound country music fan who daydreams about the day I get to return to "Nashvegas," here are a few reasons anyone who enjoys a music festival will love a night out, Nashville-style:
1. The honky tonks are your one-stop shop for live music, food and drinks.
There is nothing quite like a honky tonk, even though it's the same as any other club. They're both filled with music and alcohol. Country music is an experience best enjoyed live. Though the average person is not familiar with line or square dancing, the mix of alcohol and music will make you think you can.
Walking down Honky Tonk Highway, you'll realize there's a band performing at every single venue, meaning the entire area sounds like all the stages at a music festival were positioned right next to each other. Best of all, there's no cover charge, so Millennials on a budget (AKA, all of us) can live it up and put that cash toward beer and tipping the band instead.
Country icons like Kris Kristofferson, Willie Nelson, Waylon Jennings and Patsy Cline are just some of the performers and patrons of legendary honky tonk Tootsie's Orchid Lounge, which has three stories, four stages and three bars. There's also Rippy's, which has two floors and three stages. What I personally love about it is the outdoor patio that gives you access to a great view of Broadway Street all lit up.
2. On weekends, they can literally shut down certain streets.
There are cops riding on horses (naturally), people crossing the streets in every direction and party goers roaming from one honky tonk to the other. It's all fair game, and just like at music festivals, you have all that space to roam. As an Angeleno, I was in awe of just how accommodating the city is and how entrenched the honky tonk is in Nashville culture. It's not a pastime; it's a lifestyle. If you're in the Downtown area, you simply can't avoid it. Why would you want to?
3. You can eat and drink to your heart's content.
Like any good country music festival, Nashville's food scene has you eating with your eyes. Southern food is synonymous with comfort food, and when you need a break from dancing, there are some Nashville favorites you can tuck into.
While Memphis is the better known for its BBQ, Nashville is famous for its hot chicken, meat and threes (as in three sides). Just like going to any festival means revisiting your favorites (The Spicy Pie at Stagecoach, for example), the hot chicken is a local favorite. It's made with buttermilk and hot sauce, and it's pan fried with cayenne oil. It's hotter than a Southern summer, y'all.
Famous local joints like Hattie B's, Arnold's Country Kitchen (famous for its meat and three), The Patterson House and Tavern are just a few examples of down-home country goodness with amazing cocktails. Though, you can never go wrong with Jack and Coke.
4. Even if you don't know the songs, you can't help but have a good time.
Jimmy Kimmel's viral skit on how little Coachella goers knew about the lineup can apply to any music festival, and the same can be said for the bands on Music Row. But the point is, that doesn't keep anyone from having a good time.
Country music is famous for telling a story that can feel like a page out of your own life. After just one listen of "Friends In Low Places" you will forever toast to Garth Brooks' iconic kiss-off where he sings, "And I toasted you/ Said, honey, we may be through/ But you'll never hear me complain."
"Wagon Wheel" by Darius Rucker hit number one in the country charts in 2013, and it is a perfect contemporary gateway track to country music for those still on the fence about it.
No matter how much country music changes and evolves, it will always be proudly rooted as music for the average person. For this reason, the country music genre is pretty much the definition of "mainstream." Just listen to Carrie Underwood's "Before He Cheats" and Luke Bryan's "That's My Kind of Night." Country fan or not, you will relate.
Pop artists today get a lot of attention for throwing shade, but country artists don't know anything about that because they put it all out there. Icons Loretta Lynn and Conway Twitty have a song called, "You're The Reason Our Kids Are Ugly." And who can't relate to Billy Currington's song, "Like My Dog?" Just listen to the lyrics, "I want you to love me like my dog does baby / When I come home, I want you to just go crazy / He never looks at me like he might hate me."
Now, just imagine that live, with a beer in hand and your cowboy boots on. That right there is a good night in Downtown Nashville.