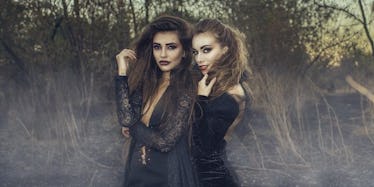 9 Most Popular Group Costumes On Pinterest To Slay With Your Squad
Olga Brik/Shutterstock
Where would so many of our lives be without the magical creation of Pinterest? It's literally an idea machine that gives us inspiration to try a few magnificent things out for ourselves. Since Halloween isn't so far away, it's only logical that your costume pin boards are already overflowing. The most popular group costumes on Pinterest are right at your fingertips, and now, all you have to do is round up the gang. A group costume can be so much fun, because it gets everyone in your crew of dope friends involved. It also sends out a message about how close you all are, because you're literally adults prancing around in a themed costume. Clearly, you'd only endure that for the real fam.
The more the merrier, and these Pinterest costume ideas will certainly make you want to rack up as many homies as possible just to acquire the look on one of your boards. The themes are endless, and some looks are for sure going to bring back some of that childhood nostalgia. Whatever party or function you plan on going to, get ready to be the center of attention when you're rolling deep with the costumed squad. If you're up for the group costume challenge, see the most popular ones that are trending on Pinterest right now.
1. Baywatch
Get your swimsuits ready and wear a Baywatch costume for #Halloween. https://t.co/WDjoRfg67I pic.twitter.com/hwe1xQSUWr — Brit + Co (@BritandCo) October 28, 2016
Make it summer once again with a Baywatch-themed costume with your squad. Bathing suits in the fall just got that much more fun. Who knows, someone may even need you to "rescue them."
2. Game of Thrones
New post (Jon Snow & Ygritte. Game of Thrones couples costume :)...) has been published on DIY Halloween Costumes - https://t.co/YRG2drDp1Y pic.twitter.com/Segt0EFly8 — DIY Halloween 2017 (@diyhalloweencos) September 11, 2017
As much emotional pain this show has caused for many people, Game of Thrones is the perfect costume idea for a group. Party it up, and live for Jon Snow. If you haven't watched the show just yet, sorry if that was a spoiler.
3. Stranger Things
New post (Stranger Things Couple Costume....) has been published on Halloween - https://t.co/rkVsl8JGiC pic.twitter.com/cONhhJzIcs — Halloween (@eventsusa2) September 13, 2017
Get your Eleven pretty in pink on, and the rest will follow along because duh, it's dressing up as the Stranger Things crew. I'm beyond happy that the new season is coming onto Netflix right around Halloween. Watchers of the show will incredibly dig this look for your group.
4. Rugrats
Nothing like a costume party to get your morning going! Head to Insta to vote for ur fave! #Rugrats #Mario #OITNB pic.twitter.com/c8u4Sm2ZWu — UW Softball (@UWSoftball) October 30, 2015
Remember when they said real kids never really grow up? Well, the Rugrats are basically the reason why we are hesitant. Their adventures were our #KidGoals, and wearing the Rugrats theme as a costume hardly gives enough kudos.
5. Gaston And The Maids From Beauty and the Beast
Am I @TheRealLukevans yet? @joshgad #gaston #cosplay #costume #beautyandthebeast pic.twitter.com/SFe3OD1PF5 — yan (@Starkninja__) May 5, 2017
Anyone who has watched Beauty and the Beast knows that Gaston was a pretty handsome villain. Again, it's so hard to have to grow up after being a kid in the 90s and watching all of these magical shows and movies. Well, for Halloween, don't grow up and actually be those awesome characters.
6. Female Boxers
New post (diy boxer costume...) has been published on DIY Halloween Costumes - https://t.co/rp88XLvZyc pic.twitter.com/B0uU8kfwDu — DIY Halloween 2017 (@diyhalloweencos) September 24, 2017
Ladies can certainly dance around in the ring, with or without a female boxer costume. Strap on those gloves, ladies, and take a jab at some Halloween fun. There may be more fight in you than you think.
7. New Ken Dolls
New post (DIY Barbie & Ken Halloween Couple Costume Idea...) has been published on DIY Halloween Costumes - https://t.co/ZoXTs8Ey4V pic.twitter.com/jrMRcR2kav — DIY Halloween 2017 (@diyhalloweencos) August 20, 2017
I may be biased, but the Ken doll was practically the first man every girl loved besides her dad. Fellas, you'd be foolish not to rock something your ladies loved throughout their childhood. You may find your Barbie after all.
8. Bring Out The Frat Boys
Halloween costume ideas: stereotypical WASP college frat boy pic.twitter.com/38h1jHeoba — J-Girl (@jennitwerk) September 10, 2015
Oh, frat bros. I'm not entirely sure how college would be without you guys. Halloween parties are sure to be lit if you have a group of real or costumed frat boys attending.
9. The Four Lovely Seasons
New post (Four seasons halloween costume. Four girl costume. Halloween. Group ...) has been published on Halloween - https://t.co/ixiaNW3Gaa pic.twitter.com/ibFLZaJ80O — Halloween (@eventsusa2) September 13, 2017
Whether you're as fierce as winter, or as vibrant as summer, the four seasons is a simple and fun costume to slay for Halloween. Get creative with your props, and let the good times come to you. Celebrating Halloween with a group of friends is one of the best ways to make memories that day. Coordination is key to acquiring any of these notable looks, and leave the execution up to all of your contagious personalities.
Check out the entire Gen Why series and other videos on Facebook and the Bustle app across Apple TV, Roku, and Amazon Fire TV.