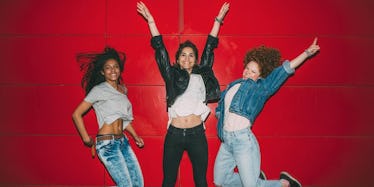 5 Things To Do If It Rains This MDW And You Still Want To Turn Up
Studio Firma
People usually look forward to spending time outside and enjoying the warm weather on Memorial Day Weekend. There really is nothing like an outside barbecue that lasts from the early afternoon until late in the evening — complete with good food and even better: laughs. And of course, splashing around in somebody's pool is always the wave.
I'll keep my fingers crossed for Mother Nature to be kind, but in case my Weather Channel forecast is right and Monday is a wet one, a back-up plan has to be in place.
Rainy days aren't a bummer when you know how to have a good time no matter what.
If Memorial Day brings us showers, then here are a few ways to still make it the ultimate fun weekend.
1. Try an escape room.
Escape rooms have been opening up all over the country and are the perfect "inside" outing. The escape room is a closed space (that's actually pretty large most times) with a series of clues and tests that you must solve in order to get out of the room on the other side. There is usually a theme associated with the room, and don't be surprised if there is actually are rooms within your room.
I tried one called Exit Strategy in Charlotte, North Carolina with a group of friends and our theme was something similar to King Arthur's court. Before escaping the "castle" (our room), we had to ward off a dragon. The room was super tech-ed out with HD screens operating as the windows to the castle and displaying the dragon. My group had to use clues in the room — everything from incognito light fixtures to figurines to wands hidden in the room — to finally escape.
The game usually has a time frame that you decide on before entering and there are usually multiple escape rooms in one building with varying levels of difficulty,making it also very kid-friendly.
Long story short, try it. Whether you actually make it out (it's not easy, but some people do), or end up being retrieved by an employee when the buzzer sounds, you'll stay dry and have a great time.
2. Visit your local barcade.
Maybe a rainy day isn't the night for regular bar-hopping, but you can still grab your loved ones and head to a bar that not only keeps the drinks flowing, but also serves up nostalgic games from your childhood.
If you didn't grow up playing enough video games, then most barcades also offer other hands-on games like pool, foosball, darts and more.
3. Have game night at the house.
This is probably the cheapest option because you get to invite everyone to your home, probably pot luck it up instead of cooking everything yourself, and you can purchase whole bottles of liquor instead of over-priced bar drinks. Yes, this is definitely your time to show off the drink mixing skills you've acquired thanks to Pinterest.
Pull out your board game staples like "Sorry" and "Trouble," but also don't be afraid to try any new ones. Pit the guys against the girls or the teens against the adults. Keep some nice music in the back or a funny movie. There will always be beauty in a chill night at home.
4. Find a dinner theater.
Instead of doing dinner and a movie, why don't you combine the two? The only thing better than enjoying a movie in the theater is enjoying one while delicious food is being served to you instead of plain, dry popcorn.
5. Try indoor extreme laser tag.
Laser tag isn't just for the kiddos; just ask Vanessa Hudgens. Look up an indoor laser tag spot in or around your city, then get a gang of your friends together for a few rounds. It's also important to call ahead of time to find out if they take reservations (which often have group minimums) or take walk-ins.
Most of the time, rounds are 15 minutes long and you won't believe how tiresome that time frame can be. Book about three or four sessions, with breaks in between. You may even luck up and find a laser tag spot that also serves up food and drinks.
Remember, the most important part about Memorial Day is spending it with the people you love the most. As long as you've got your squad with you, then a good time is definitely in the cards — rain or shine.