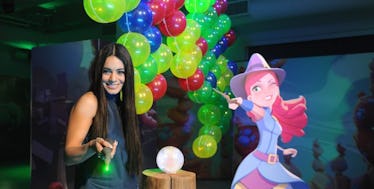 I Played Laser Tag With Vanessa Hudgens And My Middle School Dreams Came True
Diane Bondareff
Had you told me on the night of my 2005 debut as Basketball Player #3 in my all-girls camp production of "High School Musical" that one day I'd play laser tag with Vanessa Hudgens, I'd have been like, "Honestly, yeah, that seems like the direction my life is headed." 
Although I struggled to remember if the jazz square came before or after the dribble, my hand-eye coordination was as strong as my singing was awful. 
Said hand-eye coordination was all I brought with me on March 22 to King's Bubble Witch 3 Saga launch party in New York City hosted by Vanessa Hudgens. 
King, the creators of the Candy Crush franchise, invited guests to channel their inner child and play a magical forest-themed game of adult-only laser tag.
I was lucky enough to play on Vanessa's team (extremely humble brag), and the game was a perfect combination of Capture the Flag and old-school, Funplex-style laser tag.
It was as awesome as it sounds.
Juan A. Perez, the lead producer of Bubble Witch 3 Saga, mentions King conducted a survey of adults in the United States and found adults crave relaxation and escape from daily stress. 
While this is a seemingly obvious concept, the methods of relaxation certainly vary. However, as anyone with a smartphone will tell you, mindless phone games really are the perfect escape from reality.
Vanessa Hudgens added,
When I'm on set and in the studio I zen out by playing games on my phone.
Swap out "on set" and "in the studio" with "riding the subway and trying not to make eye contact with the guy whose hands are down his pants" and "sitting on the toilet at work pondering life" and you're basically the same person as Vanessa!
In addition to dabbling in phone games, Vanessa Hudgens is currently starring in NBC's new sitcom "Powerless."
The 28-year-old actress and singer stole our hearts back in 2006 when she played Gabriella Montez in Disney's "High School Musical" and has continued to grow her personal brand, singing career and acting ventures over the past 11 years.