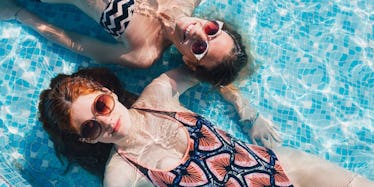 10 Things You Didn't Think To Pack For MDW That Will Actually Save You
Lumina
Memorial Day weekend is on its way, which is the holiday the U.S. sets aside to honor veterans who have passed away. For some families, the day is specifically for taking time to honor those lost loved ones. For some, it's also a day off when the barbecues are plentiful.
Whether you are celebrating one of our country's heroes or kicking back for the sake of a kick-back, there are a few things you should be throwing in your weekend bag.
Sure, you'll need flip-flops, sunscreen, and a swimsuit, but here are a few tips that will help you pick the ones that will come in super clutch for the fun weekend ahead.
1. Pack a one-piece bathing suit that doubles as a nice top.
You should definitely be packing more than one bathing suit, so make sure you add a one-piece to the line-up because they double as great tops since they resemble trendy bodysuits.
Take it for a dip in the pool or tuck it into a pair of skinny jeans, slide into heels and then hit a party. This Forever 21 monokini costs $22.90.
2. Try sunscreen that makes you smell delicious.
Trade in your traditional sunscreen and its regular sunscreen-y smell for something that protects you just as well but with a tropical, summery scent. This Hawaiian Tropic has a flowery smell and runs for around $8.
Find it at retailers like Ulta, Target, and Walmart.
3. Pull these travel dog bowls if you never do a holiday without your pet.
These bowls are portable, cheap, and durable since they are made of rubber-like bamboo silicone. You can find them online, in pet stores, and inside retailers like Walmart and Target. They vary in size but are usually $10 or less.
4. Slip into sandals that are comfortable and stylish.
You may be hanging by the pool or hopping from place to place on Memorial Day weekend, so you might as well wear multi-purpose shoes that look as great as they feel.
These slides are $32.95 from Victoria's Secret, but if your budget is tighter, try a similar selection from Forever 21 for half the price.
5. Grab a "can-cup" for low-key outside drinking.
The Cool Gear brand can-cups are about $10 and are available online. I found mine at the very cheap and very amazing, Five Below, where everything is under five dollars.
Happy drinking and do so responsibly (21+).
6. Get a picnic bag that will hold your wine perfectly.
If you're a wine-lover who plans to have a picnic or even a barbecue, then this bag is just perfect for the occasion. The bag balances two bottles of wine in insulated pouches on each side.
It also comes with a cheese cutting board, knife and a wine corkscrew! Goals, right? The bag is $38.16 from Target.
7. Throw in makeup setting spray.
If you plan to be glammed out with a beat face in the sun then you're going to need makeup setting spray so those rays don't melt your masterpiece. The French skincare company, Caudalie, carries a grape water makeup setting spray that will hold your lovely face together.
It'll also make sure your skin isn't irritated since it is an all-organic product. The bottle is available online and at Sephora for $13.
8. Try easy slip-on clothes with cooler fabric.
Having fun in the sun is always better when you don't feel as if you're being grilled instead of the burgers and hot dogs.
Make sure you put a few clothing items in your bag that are made of natural fibers. According to Cosmopolitan, natural fibers will keep you cooler than synthetic ones and they also absorb sweat better. Check your labels as you shop for your Memorial Day 'fit. This Forever 21 dress costs $27.90.
Dresses are also convenient because they are always quick to get in and out of when you need to change according to new plans.
9. Invest in waterproof speakers.
There's no need to put your smartphone at risk as you hang out by the water this Memorial Day weekend. Invest in a waterproof speaker and your entire squad will thank you for making their beach or pool day the ultimate jam session.
These mini-speakers are only $10 at Walmart and have suction cups on the bottom, making them also suitable for shower music as well.
10. Play with a floating beer pong set.
Beer glasses and cans aren't allowed by the pool but here's a very convenient way to bring your favorite ale to the water this year. This floating beer pong set is available at Walmart for just $17.99.
With these selections, you'll definitely be ready for anything that goes down on Memorial Day weekend.
So, who's ready to party?