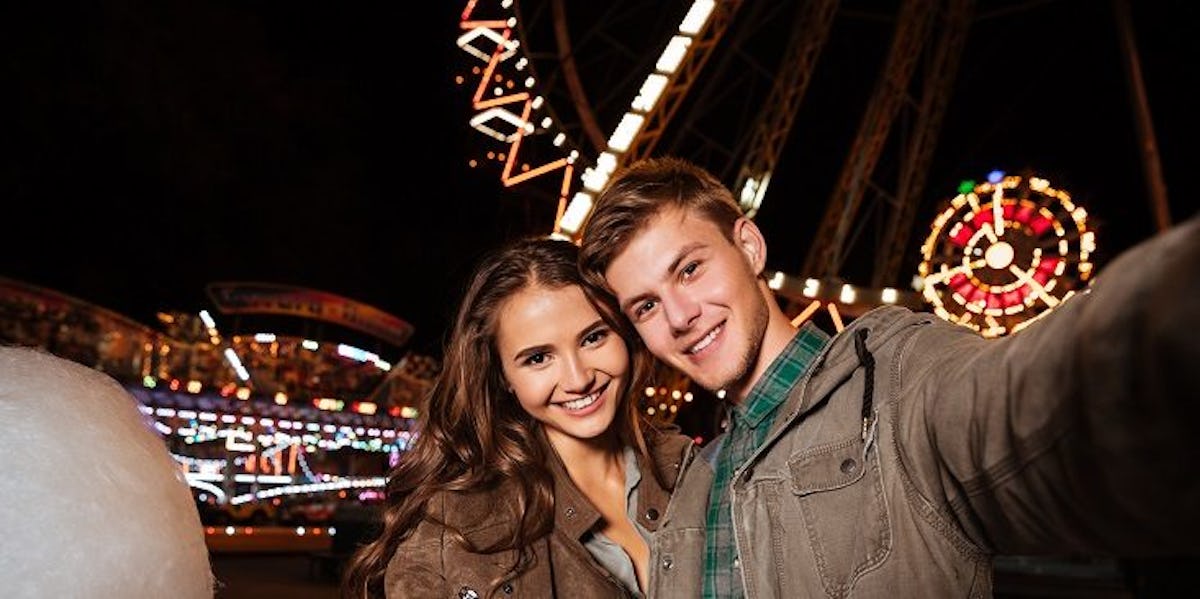 18 Fire Captions For Your Man Crush Monday Post To Show Bae How Much You Love Him
Dean Drobot/Shutterstock
As much as Mondays are such a drag because it's extremely difficult to leave the laid-back weekend behind, social media comes to save the day. Participating in man crush Monday gives you something to look forward to, and if what you're posting is a complete thirst trap, others are anticipating your post, too. Picking Man crush Monday quotes for your Instagram caption is almost as important as who's featured in the picture.
Clearly, everyone wants the scoop on the person you're crushing on, especially if that special someone is not a celebrity. Yes, we all know some people can be super nosey, and we learn to deal with it. But if you have already taken that step and posted a picture of your boo, you might as well go full out and pair a steamy, meaningful, and witty caption to go along with it.
Instagram may never fully translate our emotions, but we can at least act like it gets the idea. As much as an adorable pic of your dude sporting that irresistible half smile (why do all men have that?) would normally suffice, we want extraordinary. Whether you're posting a picture of someone new or a man you've been with forever, either situation deserves your best compilation of a picture and an epic caption. And as much as guys say they don't care about all of the mushy stuff, they'll definitely be peeping at what you put together.  Spruce up your man crush Monday posts and seemingly put a charm spell on your followers with a few of these quotes.
1. "A strong man can handle a strong woman. A weak man will say she has an attitude." --Pravinee Hurbungs
2. "It's not true that nice guys finish last. Nice guys are winners before the game even starts." -- Addison Walker
3. "A real man won't date the most beautiful girl in the world -- he'll date the girl that makes his world beautiful." -- Anonymous
4. "A good man will want you to shine. He wants you to be your amazing self. A good man loves to show off his happy, intelligent, amazing, powerful woman." -- Anastasia Netri
5. "A gentleman will open doors, pull out chairs, and carry things. Not because she's helpless or unable, but because he wants to show her that she is valuable and worthy of respect." -- Charles J. Orlando
6. "Sweetheart, I have no intention of denying you a thing." -- Rebecca Brooks
7. "Since you've been around, I smile a lot more." -- Unknown
8. "You're just like poison. My affliction, I'm addicted." -- Beyoncé
9. "If you can make a girl laugh, you can make her do anything." -- Marilyn Monroe
10. "You can't measure manhood with a tape line around his biceps." -- Billy Sunday
11. "Chemistry is you touching my mind and it setting my body on fire." -- Unknown
12. "Your lips are like wine and I want to get drunk." -- William Shakespeare
13. "There are plenty of things I'm sorry for, but you'll never be one of them." -- Jasmine Vaughn-Hall
14. "Your personality is what makes you sexy." -- Mollie King
15. "But there was something about you." -- Boston
16. "Liking someone comes natural, but loving someone it's a choice." -- Abraham Ruiz
17. "If I had a rose for every time I thought of you, I'd be picking roses for a lifetime." -- Swedish Proverb
18. "He smiled in a way that made me want to kiss him right on the spot. Or the lips. Whichever was closer." -- Shannon Hale
Man crush Mondays are a time for you to celebrate the lucky guy in your life. All social media aside, people sure do have a way to make us feel wordless. No matter what picture you decide to pair with the caption, as long as what the two of you have makes you feel alive, that's all that matters.