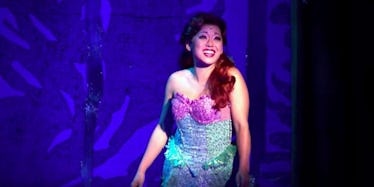 'The Little Mermaid' Star Claps Back At People Claiming Ariel Has To Be White
YouTube
The animated Disney film The Little Mermaid is about a young mermaid who gives her voice to an evil sea witch in exchange for a pair of human legs, so she can live out of the water and on the earth. But for some people in America, this description also means that the mermaid in question should be white. According to Buffalo News, The Little Mermaid star admits she deals with racist comments about the fact that she plays Ariel as an Asian-American. The actress who plays Ariel, Diana Huey, opened up about a recent experience she had before the cast's tour stop in Memphis, when she noticed a slew of racist comments on Facebook before her performance. Huey admitted it stirred her.
"It's hard not to take it personally," she told Buffalo News. "I had kind of a funky first part of the show and I was like, 'how do I get out of this? I can't let that affect me.'" Huey was cast as Ariel in November, as part of the performance company, 5th Avenue Theatre. According to The Seattle Times, the performance company is known for its inclusive casting, and also hired an ethnically diverse cast for previous productions of Cinderella and Grease years earlier. But still, that doesn't mean that the subject of race doesn't come up, and for Huey, it's been a difficult one to face.
In a Facebook post published to her personal page, she reflected on how race played a part throughout her entire audition process. "I didn't think I had a real chance in booking it because I'm Asian," she wrote. "Looking back at that now, that thought makes me so sad." Though Huey didn't go into detail about what the racist comments, she did tell Buffalo News that the experience prompted her to visit the National Civil Rights Museum while in Memphis to reflect on her experience.
And later, when the tour hit Nashville, she had an affirming experience that reminded her why diversity on stage is so important. Huey told Buffalo News about the mother of an adopted young Asian girl who had an emotional reaction to her performance. "The mom pulled me aside and said, 'The second I saw that you were playing Ariel, I just burst into tears for the sake of my daughter being able to see that,'" Huey said. "Seeing a little Asian girl in a place where there aren't a lot of Asians, it reminds me how important it is to say diversity matters and being open-minded matters and equality matters. If I have to take the brunt of it every now and again, I will."
Huey's Facebook post, which was inspired by the Buffalo News interview, has since gone viral. She writes,
I am so proud to be a part of this company and I am so proud to be an Asian American artist. I didn't by any means set out to try to be the face or voice of anything - but I am humbled to be fighting for a more loving and equal place in the arts and in this community.
At a time when racial tension is unfortunately still high, Huey's story is a much-needed reminder that diversity in every community is necessary. The positive response she's gotten from sharing her story is a tiny glimmer of hope during the recovery of the awful weekend America just witnessed in Charlottesville that many fully intend to hold on to.