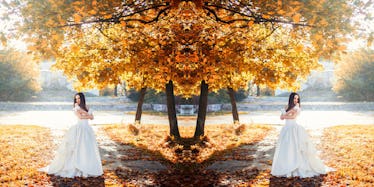 How Couples Can Make It Down The Aisle Without Breaking The Bank
So, you're engaged.
Congratulations! Not only do you get to marry the person of your dreams, but you also get to plan a wedding.
Don't worry; there are just a few simple tasks you need to prepare for on your journey down the aisle:
- Set the date.
- Find the venue.
- Send the invites.
- Make the seating chart.
- Choose the colors, flowers, linens, dress, food and cake.
- Oh yeah, and promise yourself to someone for the rest of your life.
When it comes to weddings, most of us think about the ceremony rather than the marriage.
There are a lot of details and elements to organize and choose in order to make the big day perfect.
You try to reflect the dreamscape image you've had in your mind since puberty.
For some, the bigger the better. (Although not everyone can spend a few million on a lavish French celebration. I'm looking at you, Kim K.)
Ceremonies and receptions can still run you a few grand (if not more) in order to accommodate your guest list and bridezilla demands.
Some people sneak away on a Friday afternoon in their nicest threads to the local courthouse, and they summon a stranger to witness the moment they commit to marriage.
There is no right or wrong way to marry the person of your dreams. (Although, I would strongly advise against a "Star Wars"-themed shindig.)
But, there are merits to keeping your celebration small and intimate.
Depending on the details, having a smaller wedding will save you a lot of money.
Considering the average wedding costs $32,000, there is something to be said about downsizing anywhere you can, beginning with the guest list.
The average price per head for wedding guests is $68, so the larger the guest list, the more you'll have to pay the caterer.
Keep it small and intimate rather than inviting obligatory guests.
(Think more "Mom and Dad" and less "Great Aunt Ruth who you've never interacted with in your entire life.")
You will have the people who matter the most in attendance, all while saving some green.
In doing so, you will have more money to put toward your marriage rather than your wedding ceremony.
Isn't that what it is really about?
Yes, promising yourself to someone in the confines of marriage is an important and special moment to share with loved ones in the form of a ceremony and reception.
But, it is only a few hours.
Your marriage is far more important than a wedding.
Keeping it intimate will put less focus on the price tag, details and extravagance, and the day will remain still special.
Let's face it: You're just glad to be marrying the one you love.
You can still throw a kickass and classy soirée on a smaller scale without the grandiose, over-the-top elements of a 400-plus guest list in a cathedral or ballroom at your local resort.
Small can be done very well.
With sweet elements and details, an intimate wedding will only focus on the purpose of celebrating the union between two people.
The smaller the wedding, the fewer the details.
The fewer the details, the fewer decisions that have to be made and the less money spent.
This will result in little to no fights with your fiancé(e), parents or vendors.
Overall, this creates less stress leading up to your nuptials.
Can't argue with that.
Having a small wedding, as opposed to no wedding, also has its benefits.
A quickie in the courtroom will get the job done, but at what cost to your parents' feelings?
Eloping can cause drifts in families, offend friends and cause tons of drama.
Some families can argue a wedding is not just about you; it's about sharing this momentous occasion in your life with loved ones.
When you leave out the loved ones completely, there can be some problems.
Having a wedding isn't a binary operation.
It is not a decision between your Pinterest board and taking a number at city hall.
You can get the best of both worlds: a dream wedding at a reasonable price that makes your loved ones happy.
Most of all, you can make it down the aisle to vow your love in the form of "I do."