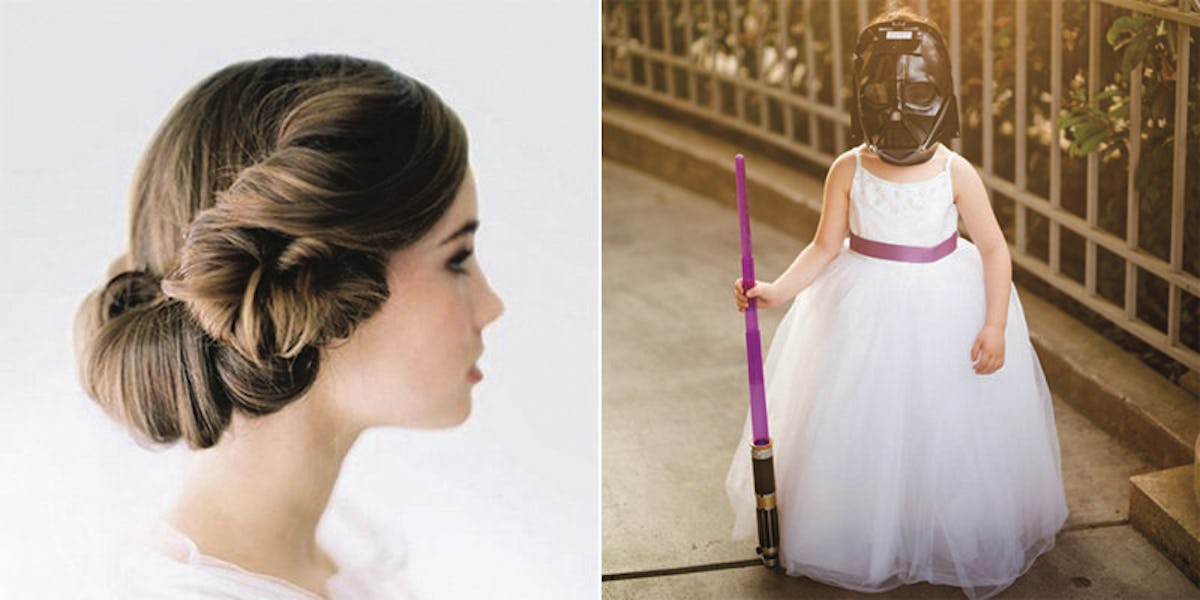 23 'Star Wars'-Themed Weddings To Get You Ready For 'The Force Awakens'
Hey. Have you heard? There's a new "Stars Wars" movie coming out this weekend.
If you haven't been bashed over the head by millions of dollars in promotional advertising, Lucasfilm isn't doing its job right.
Before you purchase your tickets and stand in line for hours dressed as Slave Leia, relive the legacy of the series.
"Star Wars" influences aren't just found in conventions and shady geek bars, but in weddings and parties as well.
Ever thought about a Jedi-themed wedding, you Luke lovers? If not, it's time to consider it.
May the Force be with you.
No one knows passion quite like a "Star Wars" fan.
They're willing to shape even the smallest details to fit their theme.
When wedding planning, matching the flowers to the Stormtrooper helmet is key.
You can even modernize the famous Princess Leia buns.
Lightsabers are not optional.
That's because they make for excellent photo ops.
Themed placeholders are a must, too.
Inflatable Yoda, however, we could live without.
Even subtle accents pay homage to the Force.
Pledge your commitment to each another, and to defeating the dark side.
Well, maybe.
Some grooms find it's more fun to be the bad guy.
And who are we to judge role play?
Just make sure you're getting proper ventilation.
And taking time to goof around.
But, these weddings are really about the happy couple.
Like Han and Leia, they represent love overcoming obstacles.
And committing to stay best friends forever.
Let's not forget the most important member of the wedding party.
Ain't no groomsman like a droid groomsman.
End the party with a sweet, themed cake.
Don't forget the dramatic shot.
And a trip to the arcade.