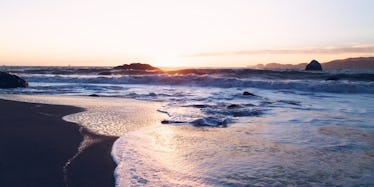 8 Most Instagram-Worthy Beaches In The U.S. You Need To Travel To ASAP
Sebastian Gabriel/Unsplash
When it comes to summertime vibes, a trip to the beach is a given.
Whether or not you enjoy wading through the tide, the sandy shores offer a serene escape from our chaotic schedules. Reality is put on hold for a bit, and we embrace the calming sound of the waves.
The truth is, boasting about your beach day on social media is almost just as satisfying as the day itself.
To ensure some amazing photographs worthy of your Instagram feed, here are eight of the most Instagram-worthy beaches in the U.S. you need to travel to ASAP.
1. Virginia Beach, Virginia
The town of Virginia Beach is a popular and beautiful retreat for many. It boasts three beaches, a historic downtown district, and many festivals and events throughout the summer.
For a more relaxed vacation spot, you can check out Sandbridge Beach. The rolling dunes and wooden pier are reminiscent of something straight out of a Nicholas Sparks novel.
With miles of coastline to explore, you can take part in a variety of water sports, or simply find your favorite spot to soak up some rays.
2. Dry Tortugas National Park, Florida
Dry Tortugas National Park is situated in the Gulf of Mexico, about 70 miles to the west of Key West, Florida.
Seven small islands make up the coastline of this national park. In the waters off the coast, you can experience crystal-clear snorkeling, and encounter a variety of marine life, including the sea turtles that gave this park its name.
With its incredible history and its isolation in the Gulf, Dry Tortugas makes for a unique experience you can't get anywhere else in the U.S.
Snap away, Instagrammers.
3. Natural Bridges State Beach, California
The famous coastline of Natural Bridges State Beach is located in Santa Cruz, one of Northern California's beloved beach towns. Picturesque rock formations just off the coast give the beach its name.
No matter what time of year you visit, this beach and park offer something you don't see everyday.
In the late fall and winter, thousands of monarch butterflies take up residence in the trees, which makes for the perfect picture opportunity.
4. Lanikai Beach, Hawaii
Lanikai Beach is located in the town of Kailua, Hawaii.
With a name that means "heavenly sea" in Hawaiian, it makes sense that this beach looks more like a postcard than an actual place.
With a mile of almost still coastline, its turquoise waters are the ideal spot for snorkeling or relaxing. Surfers and kayakers can still be found in the Mokulua Islands, about a mile off the coast of Lanikai Beach.
5. Malibu Lagoon State Beach, California
You can have the best of both worlds (sorry, not sorry for the Miley Cyrus pun) at Malibu Lagoon State Beach.
On one side of the park is Malibu Lagoon, where the creek goes into the ocean. Further down the coast is Surfrider beach, which is well known for its surf-perfect waves. Grab your surfboard, and get ready to shred it up.
The famous Malibu pier sits just to the east of the lagoon. Here, you can enjoy delicious local seafood, shopping, and a fun coastal atmosphere.
6. Hilton Head, South Carolina
With more than 12 miles of pristine coastline, Hilton Head Island is a lavish resort destination. The island is home to both public and private beaches, but wherever you go the water is warm and so inviting.
There are plenty of things to see and do apart from the beaches, but lounging in the sunny sand is an ultimate activity at Hilton Head.
7. East Beach, Texas
Located in Galveston, Texas, East Beach is the ideal place for anyone who likes to have a good time. It's an epic spring break and summer spot to retreat to, due to the many concerts and festivals taking place during the warmer months.
Each June, the American Institute of Architects holds its annual sandcastle competition at East Beach, which draws a lot of attention to the area. Alcohol is allowed on the premises, so get ready to drink and soak up those rays.
8. Punalu'u Beach, Hawaii
On the Big Island of Hawaii, you can find some of the most unique beaches in the nation. Punalu'u Beach is admired by locals and visitors alike.
What makes Punalu'u Beach the most special is its rich black sand, made from lava fragments. The beach is also home to the endangered Hawksbill turtles.
At Punalu'u, you can swim, snorkel, or enjoy the water from the comfort of the black sand. However you spend your time, make sure to snap a few pictures of one of Hawaii's most unique landmarks.