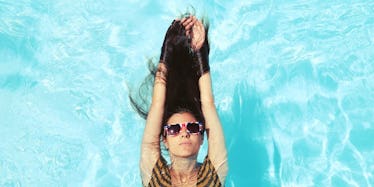 25 Instagram Captions For Your "Mermaid Hair, Don't Care" Pool Pictures
I have this theory that The Little Mermaid made every little girl believe they would one day become Ariel. There's something about the long hair, seashell jewels, and majestic scales that made many of us low-key want to turn into one whenever we took a dip in the deep blue, right? Even as adults, a few of us are still wondering why we aren't mermaids.
After you snap a few pics lounging by a beautiful pool this summer, don't even think twice about coming up with an epic caption to grace your Instagram feed. In your heart, you're a mermaid, and that's all that really matters. So sit back, relax on your vibrant pool floaty, and channel your inner mermaid goddess.
Here are 25 perfect caption ideas for any pool picture you're planning to post.
1. She is a mermaid, but approach her with caution. Her mind swims at a depth most would drown in." --J. Iron Word
2. "Be a mermaid and make waves." -- Unknown
3. "For her, the ocean was more than a dream, it was a place she needed to visit to find herself." -- Jose Chaves
4. "She is a mermaid on dry land and the world is her ocean." -- J. Iron Word
5. "There's a million fish in the sea, but I'm a mermaid." -- Unknown
6. "I think I love rain because I am a mermaid who lives too far from the ocean." -- Unknown
7. "A smooth sea never made a skilled mermaid." -- Franklin D. Roosevelt
8. "Mermaid kisses and starfish wishes." -- Unknown
9. "Mermaid hair, don't care." -- Unknown
10. "Salty, but sweet." -- Unknwon
11. "Mermaids don't lose sleep over the opinions of shrimp." -- Unknown
12. "Brave and free and wild as the sea." -- Unknown
13. "You wish, jellyfish." -- Unknown
14. "Mermaid off duty." -- Unknown
15. "I'm done adulting. Let's be mermaids." -- Unknown
16. "Be a mermaid. Swim fast, wear a crown, and dream big." -- Unknown
17. "I washed up like this." -- Unknown
18. "She is made up of depths even the ocean couldn't fathom." -- Jessica Katoff
19. "I can't run, I'm a mermaid." -- Unknown
20. "Sorry, mermaids only." -- Unknown
21. "They call me mer-mazing." -- Unknown
22. "Still kinda pissed about not being a mermaid." -- Unknown
23. "I didn't choose the mer-life. The mer-life chose me." -- Unknown
24. "Summer goal: Become a mermaid." -- Unknown
25. "Sorry, I can't, I have important mermaid stuff to do." -- Unknown