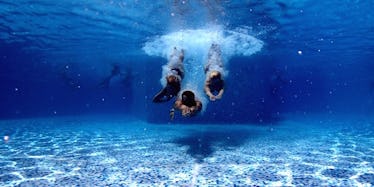 6 Breathtaking Pools Across The Globe You Have To Dive Into This Summer
Jesper Stechmann/Unsplash
Whether you're a pool person or an ocean person, there's no doubt summer is the prime time to break out the sunscreen and cool off in the water.
Finding beautiful places to swim can prove to be rather challenging, though.
There are a lot of nice pools anywhere you go, but few of them possess the aesthetic qualities to truly impress. All pools are not created equal.
Here are six breathtaking pools across the globe you have to add to your bucket list.
1. Hearst Castle Pool, California
In 1919, publisher William Randolph Hearst inherited a beautiful stretch of land around San Simeon, California. He ordered the construction of a large estate, which he named La Cuesta Encantada, aka "Enchanted Hill."
Today, we know this landmark to be Hearst Castle.
Hearst Castle's Roman Pool is an indoor mosaic pool designed to look like an exquisite ancient Roman bath. Eight statues of Roman goddesses, gods, and heroes line the walls surrounding the pool, and the mosaic patterns are truly a remarkable sight.
2. Hotel Molitor, Paris
La Piscine Molitor was the focal point of Parisian fashion, with its long decks and rich history. It was built in 1929 but abandoned in the 1980s as it fell out of popularity.
In 2007, French designer Jean-Philippe Nuel of Agence Nuel renovated the existing building into a beautiful hotel with 124 rooms. Instead of completely modernizing the facilities, Nuel left remnants of the building's past throughout the property.
3. Aquaria Grande, Mumbai
Plans for this ultra-luxurious apartment building are seriously making waves, which should be on your bucket list, too.
In addition to an opulent living space, each apartment comes with its own pool, where a balcony should be.
Balconies are so overrated anyway, am I right? The pools have garnered much attention online for their sleek, modern design.
4. St. Regis Lhasa Resort, Tibet
The Gold Energy Pool in this luxury resort spotlights views of some of Tibet's most famous attractions. It's a relaxation pool meant for wading instead of swimming, and is less than 5 feet deep.
While lounging poolside, guests can enjoy food, drinks, or a revitalizing foot massage. I'm so there.
5. Jade Mountain Resort, St. Lucia
This Caribbean paradise has private infinity pools for guests. Their sizes range from 400 to 900 square feet, and multi-colored fiber optics create a glowing haven once nighttime rolls around.
Colorful tiles and a unique infinity design channels an ultimate sensory experience for guests. Each pool has individually sterilized and filtered water to avoid anything icky.
6. San Alfonso del Mar Resort, Chile
Not only is this the world's largest outdoor swimming pool, but it's probably one of the prettiest, too. Also, it's unnecessarily deep (115 feet), because why not?
This pool uses 66 million gallons of water that it obtains straight from the sea. The water is filtered to ensure maximum cleanliness.