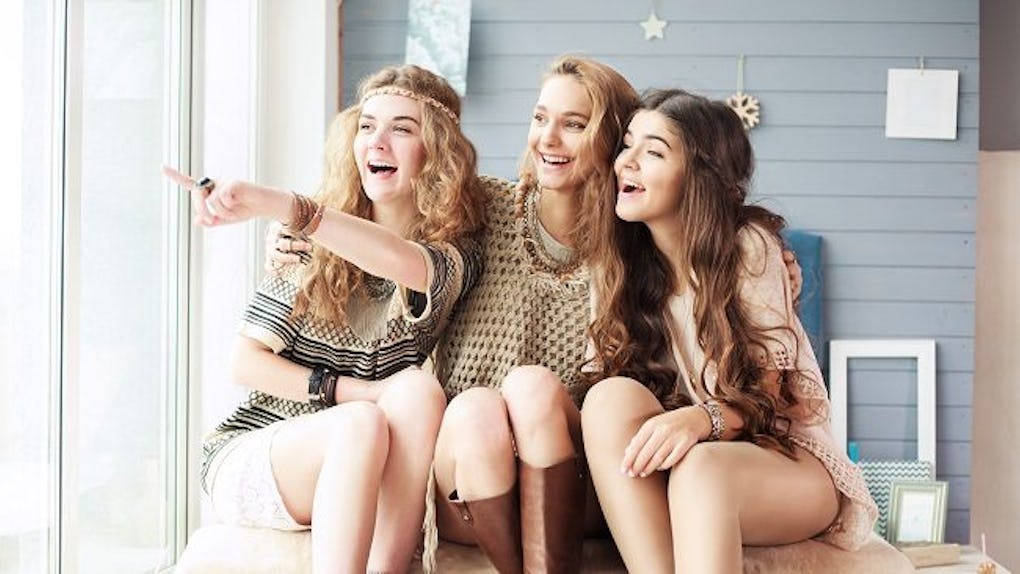 debasige/Shutterstock
Insanely Gorgeous Dorm Room Transformations That Are Nicer Than Your Adult Room
One of the several nerve-racking realizations when you go off to college is a new sleeping arrangement. Not only will you be out of the comfort of your own home, but you'll be rooming with someone you probably haven't met before. It's all about the college experience, and one of those is making the best out of your dorm room since it's where you'll rest that study-crammed head at night. Some dorm room transformations are so incredibly creative, they'll make you forget you even had a room before this and shun the one you have now.
Transforming your dorm room is your own variation of nesting, so to say. You're making your living situation comfortable and tolerable to get you through the school year. Adding your own style and flare to the decor will help you not be so homesick and cherish the dope pad you've provided for yourself. I'm not sure where people got these amazing dorm room ideas, but they're enough to make anyone wish they could go back in time and redo their college dorm rooms. If you're a little stumped or need some inspiration for your own dormitory work of art, take it from some students who went all out. These insane dorm room transformations will definitely make you oh-so-jealous.
1. Royalty Is A State Of Mind
Loving this transformation! #DormTransforms#dormsweetdorm#DormRoompic.twitter.com/hUfNHwS6BE — Dorm Transformations (@DormTransforms) August 26, 2017
This decked out dorm room looks like a place for all of our favorite Disney princesses to sit back and chill. Seriously, who wouldn't want to come home from a long day of classes and place their toes on that soft looking carpet? Just because you're a student, doesn't mean you can't have those fancy pinkies up.
2. Obviously, Major Roommate Goals
Hot Clicks: Dorm room goes viral for incredible transformation https://t.co/gUOTLYe7FBpic.twitter.com/0iOweT8uVG — CorrectBro (@mycorrectbro) August 18, 2016
The teamwork here cannot be overlooked. Of course, you at least want a tolerable roommate, but one who is on board with synchronizing and transforming your room. These ladies definitely struck out in the luck department when they scored each other as roommates.
3. Simple, Yet So Satisfying
How amazing is this dorm room transformation?? We wouldn't mind taking a study break here!https://t.co/yL60LVAoiX#interiordesignpic.twitter.com/wFPJon6qEA — ColdwellBanker Elite (@CBElite) March 30, 2017
There's nothing wrong with keeping it cute and classy. Even having matching pillows is a major conquest in a college dorm. Seriously, there are usually more pressing things to worry about.
4. Can We Just Go Back To College?
11 Before-and-After Photos to Inspire Your Dorm Room Transformation: https://t.co/3C5BhcCOia pic.twitter.com/0BJgSKqFGQ — Project Inspired (@projectinspired) April 17, 2017
If these pictures weren't side-by-side, it would almost be impossible to believe that they're the same room. Look at all of that shelf space. This is a prime example of making good use of what you're given, and we all know with dorms, it oftentimes isn't that much.
5. Fluffy Pillows Galore
These cool #dormroomideas are perfect for decorating your college #dormroom Visit https://t.co/q42Ne9M87E#dormroominteriordesign#bangalorepic.twitter.com/AdQbXaHCeB — Color N Interior (@ColorNInterior) May 4, 2017
A good pillow certainly goes a long way, and these pics have plenty of comfy looking ones. From hanging stuff on the wall to adding decorative lights, these rooms stand out from the average dorm. It's all about letting your room say something about your unique personality.
6. Teamwork For The Win
College dorm room makeover takes 10 hours at Texas State University ---> https://t.co/xVpfahjZz1pic.twitter.com/gU8AQsSv4j — Farrah Gray (@FarrahGray_) August 24, 2017
Is there, like, a dope roommate signup list circulating out there? These ladies sure didn't waste any time transforming this dud into love, love, love. Ladies really do just have a knack for this kind of stuff, huh?
7. Find Your Own Zen
cool dorm room - https://t.co/O2fCbm5zPJpic.twitter.com/zBLUvAW0BR — We Know How to Do It (@how_do_it_com) May 22, 2017
Your room should be somewhere you come back and relax in. This chill and laid back look certainly is a place you could find some peace of mind in. There will be a lot of times where you'll need some solace in college. Whether you're a freshman or not, there's always time to deck out your dorm. Transforming a dorm to your liking will not only make you comfortable, but help you understand the beauty of change.