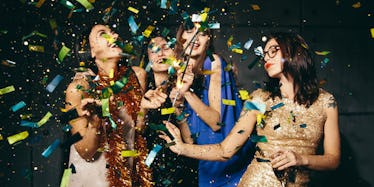 Here's How To Easily Throw A Killer Party Your Friends Will Rave About
Andrey Pavlov
Is your inner party planner just dying to come out? Everyone needs that one friend who knows how to throw a killer party because honestly, it's an art form.
Not everyone has the vision or can handle planning a killer event, but most people like to attend them. If you want to start planning the parties and events that you wish you were invited to, here are some tips for shaking things up a bit.
1. Introduce something new.
Everyone loves a bit of newness in their lives now and then, so why not be the person to give it to them?
Bring a little bit of education into your event and open the eyes of your guests to new things. After returning home from three years abroad, I threw my own welcome-home party that had a travel theme.
I made authentic dishes from the countries I visited and hung up quite a few maps that detailed where I had been. My guests loved hearing my travel stories while getting to taste food that they otherwise may not have experienced.
2. Give it a theme.
If you can't introduce something new, at least make your event based on a theme. A theme will give your party an edge and get people excited to attend because it has the appeal of being "different." You don't have to revert back to college and demand everyone wear togas. Murder mystery, decades and ugly sweaters are all fun ways to get people together.
I attended a Prohibition party that required everyone to dress in 1920s attire. The venue was full of liquor and beer tastings as well as an authentic band and dancers straight from the dance floors of the 1920s. I honestly wouldn't have attended if it weren't for the theme.
3. Inspire your guests.
A little inspiration can go a long way for your guests, and make them especially interested in attending your event.
While opening up their eyes to new things and giving them an intriguing theme to follow can serve as inspiration, you can take it a step further. Offer a donation jar to a charity of your choice. Invite a local musician to play your party for some exposure.
4. Offer a variety of activities.
Give the people attending your event something to do. Don't bore them to death with your standard song playlist or a strict itinerary.
Make sure there are plenty of different activities for everyone to try. Add in games, different dance floors with more than one style of music and make sure there are comfortable places for people to chat. If you have access to the outdoors, it can be the perfect opportunity to get some competitive games going as well.
5. Mix up the guests.
Keep the party interesting by inviting a variety of guests. Don't keep it full of only your closest friends who already hang out on a regular basis.
Try inviting some co-workers, acquaintances from yoga class or your favorite barista at the local café. Give your guests (and yourself) a chance to mix and mingle with people that they haven't met before. It may make the night more interesting for everyone.
6. Send out quirky invitations.
Whether you do it online or via snail mail, make sure that your invitations rock. If the party is themed, make sure those invites go along with it. Use your own creativity and make the invitations just as memorable as the party promises to be.
Write a poem, make a video invite or use an everyday object instead of an actual card.
Whatever event you happen to be planning this year, don't let it be ordinary!