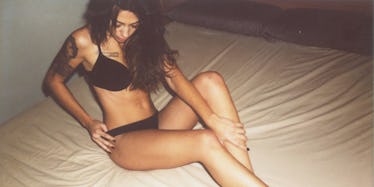 5 Ways To Make Yourself Feel Sexy When You Just Don't Feel Sexy
I crave the luscious, desirable, lustful, hungry, powerful feeling of ~sexiness~ all the time. Of all the feelings we feel in this cold, cruel, dark and bitter world, feeling sexy is my favorite. And that says a lot, because I'm a ~feeler~, baby.
So why do I love to feel sexy so goddamn much? Is it because I'm a crazy, lesbian sex maniac with dirty thoughts constantly swirling around my sinful, gay head? Possibly. But I have a strong instinct that's there's more to the story.
Lez talk about it. What does "sexy" even mean?
"Sexy" is often confused with "horny," but I think the two are vastly different feels. Horny is simple. It's about WANTING, CRAVING and DREAMING about everything SEX. And that's f*cking awesome. But sexy is a whole other animal.
Sexy isn't just about wanting to thrust your sweet body against another sweet body; sexy cuts a little deeper. Sexy is beneath the surface of your skin. It exists in the brain, the bones, the soul, even the heart. Sexy is when you're present, empowered, confident and in control. I mean, we usually say people are sexy when we're watching them soar in their element, right?
Sexy is a chick who fearlessly sings her heart out onstage and is connected to every single word released from her lush lips. Sexy is the fierce woman in the fierce power suit with the fierce, power-red lipstick who slays the misogynistic boy pigs in a meeting. Sexy is a woman on her hands and knees fixing a car with a swaggy prowess. Sexy is a babe who speaks her glorious mind.
I want all women to feel sexy all the time -- no matter where we are or what we are doing. But let's get real -- sometimes, we just don't.
For instance: I feel unsexy when I write a half-assed article that isn't authentic or on par with what I know I'm capable of. I feel unsexy when I'm on my period and am bloated to the gills. I feel unsexy when I put myself on the line with someone I'm crushing on, only to find out that the crush isn't reciprocated. Oh, honey, an unrequited crush really sends me down spiraling down the "I feel unsexy" K-hole.
The other day, I felt horribly unsexy. I mean, I was hungover and in FLATS -- two of my biggest triggers when it comes to feeling unsexy. But I said to myself, "You know what, Zara? You're a grown woman now. Get over it. You feeling unsexy, poor babe? DO SOMETHING TO CHANGE IT."
While I do fully believe in letting yourself feel all the feels, even the bad ones, I also think some feelings are entirely useless and unnecessary. And feeling unsexy is one of them.
So I did all of the things that make me feel sexy. And I realized, sh*t. We all have a sexy woman inside of us. She just needs to be pulled out sometimes.
1. Douse yourself in fragrance.
Scent is the lock and key to the entire spectrum of your sexuality. A spicy, sexy scent will trigger sweeps of sensual feelings, because scent is the most triggering of all the senses.
So when you want to channel your inner sex goddess that's being stubborn and reserved, spritz that gorgeous body of yours down with a designer fragrance or expensive essential oil. I promise she will be ready to come out to play.
"I just sprayed myself in Derek Lam '2am Kiss' fragrance from head to toe," I boasted to my editor Alexia just this morning. She shot me one of her infamous you're-so-outrageously-lavish-for-a-writer-living-off-shillings eye rolls and went back to editing.
Derek Lam 2am Kiss Fragrance, $95, Sephora 
"What? The foundation of who you are has to be luxurious, Alexia," I smugly lectured, like the older, high-rolling older sister I feel I am to her (even though she's never asked for it).
Look, kittens, I'm not right about a lot, but I'm right about this: If you want to feel sexy, you need to start with a strong foundation, and the scent you exude is your foundation. Do you want your foundation to be made up of cheap drugstore sh*t? No. It's not sustainable. You need to invest in a luxury fragrance. I don't care if the clothes, the hair and the makeup are from CVS. Don't f*ck around with your scent.
Pro tip: Make sure to spray a little luxury below the belt. I always give a "just in case" spritz of fragrance under my dress -- even if I don't plan on anyone going down there. I do it for myself, and you should, too. It changes the sexy game.
2. Champagne, baby!
Something about feeling those sweet, sultry bubbles sift down your throat will make you feel hot. Wrapping your fingers around that pretty stem glass will make you feel like an international, world-class woman who exudes unapologetic sexiness and class.
3. Exfoliate and moisturize.
Sometimes we feel so numb and miserable because we're walking around in our OLD, tarnished skin. Unexfoliated skin is where the demons of the past live. And girl, those old monsters desperately need to be scrubbed off.
Exfoliate the hell out of that skin and wash off that old, unsexy skin to uncover the shiny, new, sexy skin beneath it.
Sexy is all about the fresh start.
A wise aesthetician with a thick Russian accent once told me, "When you take away from the skin, you must always give back, Zara." I've found this to be true in both life and skin care. You must follow up your deep exfoliation with a rich, creamy moisturizer.
Zara's Pick: Palmer's cocoa butter, because it makes me smell sweet like a sugar cookie. And everyone likes a sugar cookie.
Palmer's Cocoa Butter (Value Pack), $17, Amazon
4. Either wear SEXY undies or NO undies.
There are two types of women in this world: women who feel sexy in underwear and women who feel sexy with no underwear. My bestie Eduardo feels really sexy when he goes commando under his skinny jeans. To be honest, I don't think he's worn undies since 2009.
However, I'm a chick who feels really sexy in pretty undies. When I'm sitting at my desk during a dismal work day and remember that I'm wearing LACE beneath my dress, I immediately start craving sex. It's my little secret, and secrets are sexy.
The late Diana Vreeland, former Vogue fashion editor and style icon, used to insist that her models always had pedicures, even if they were only going to be wearing closed-toe shoes. She knew they would walk with a different swagger if they knew they had pretty toenails. Same goes for undies (or no undies).
5. Listen to music.
There is a specific soulfulness to sexy. Hotness is a little more vapid and a little more temporary. Sexy is wildly emotional and raw. Our sexuality is at the core of who we are. Which is why those assholes who tell you to "pray the gay away" are f*cking nuts. You can't change your essence, no matter how hard you try.
And what taps us into our true, purest essence more than anything else? MUSIC. Music taps into your most authentic, deeply emotional place. So honey, listen to it when you don't feel sexy. It will circle you right back into that sexy place. And you should live in that sexy place, even if it makes you feel things. Feelings are OK! I promise.
Zara's Sexy Music Picks:
"Strange Love" by Halsey
"Radio" by Lana Del Rey (that part where she talks about her body being "sweet like cinnamon" always gets me going)
"Addicted To Love" by Skyler Grey (super hot, NEW discovery)
"Method Acting" by Bright Eyes (been hooking up to this one since I was 17)
"Eyes On Fire" by Blue Foundation
"Whatever You Like" Anya Marina (COVER)
"Is There Somewhere" by Halsey (perfect for when you feel "love sexy")
"Squeezebox Days" by The Murmurs (old cult lesbian classic)
"Closer" by Tegan and Sara (new soon to be lesbian classic)
So you have no excuse to NOT feel sexy ever again. I can feel your magnetic, powerful sexual energy penetrating through the static computer screen already. Also, please add in your "feeling sexy when you don't feel sexy" tips in the comments.
XO,
Zara