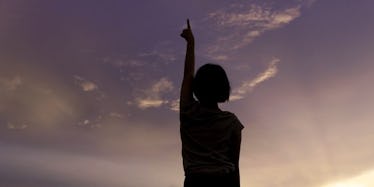 How Long Does The Upcoming Solar Eclipse Last? Here's What You Should Know
Ropisme/Shuttershock
You've probably already heard the buzz about the upcoming solar eclipse. It's a pretty big deal because it will be visible at points across the United States. Yes, you read that correctly. With that vastness in mind, you're probably trying to figure out, how long does the solar eclipse last? Don't fret; just because the solar eclipse won't last forever, that doesn't mean you'll miss out on catching a glimpse of this incredible event. It's just going to take a little extra planning on your end. So, get in the loop of things.
The 2017 solar eclipse will last roughly four hours on Monday, Aug. 21, when it makes its way across and out of the United States. It will be important to take into consideration the different time zones if you are going to head out and try to see it in your area. You don't want to be that person who's hopelessly wearing your eye protection glasses for a sighting that was listed in a different time zone. That's no fun. Of course, by now, there are plenty of maps that outline the course of where the eclipse will trek, with the times attached as well.
The eclipse will first be visible in Oregon at 9:05 a.m. PDT, and the totality is expected to occur at 10:16 a.m. PDT. NASA reveals the total eclipse will come to a close in South Carolina at 2:48 p.m. EDT, and the moon's shadow will leave the United States just after 4 p.m. EDT. That's a lot of numbers to remember, but be sure not to press the snooze button too many times or you will definitely miss out. Luckily, science has allowed us to track solar events like this one so you literally just have to track your area, and gear up.
It's crazy to think that so many people are going to witness this live in scattered parts of the United States. So, don't forget to consider that the eclipse waits for no one. Get out there and witness some magic in the sky.