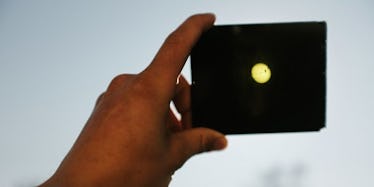 How Long Will It Be Dark During The Solar Eclipse? Here's What To Know
Martin Matej/Stocksy
If you're anything like me, you're super pumped for the solar eclipse to go down this upcoming Monday, Aug. 21. You're most likely already equipped with a pair of solar eclipse glasses, and have the perfect viewing destination all planned out with your friends. Along with all of the essentials to make the most of this celestial event, you might be wondering, how long will it be dark during the eclipse? Here's everything you need to know about how long the sun will be completely covered.
If you're in the path of totality, which goes from Oregon to South Carolina, the moon will completely cover the sun. Sounds pretty spooky, right? The temperature will drop, the shadows on the ground will become more visible, and you might even be able to see some stars in the sky. Honestly, it will be a super cool experience to get some twilight action going on during the work day.
The solar eclipse's totality is the only time it's actually safe to take off your solar eclipse glasses to view what's happening above. According to Space.com, the duration it will be completely dark will be only two minutes and 40 seconds. Needless to say, you should really make the most of that time frame, because it's pretty short.
For those of us in viewing areas outside of the path of totality, it won't get completely dark. This is why many people plan on traveling to the path of totality to make the most of this event. There are some sites that will help you find out where you'll be in the solar eclipse's path, and how far away the closest area in the path of totality is.
But if you're unable to sneak away from work for the day, don't worry at all. Even a partial viewing is super cool. You'll get to see part of the sun getting covered by the moon. How sick is that? So if anything, Monday will be the perfect day to take a break from your hectic schedule and gaze up at the sky. Just make sure you have your solar eclipse glasses readily available.