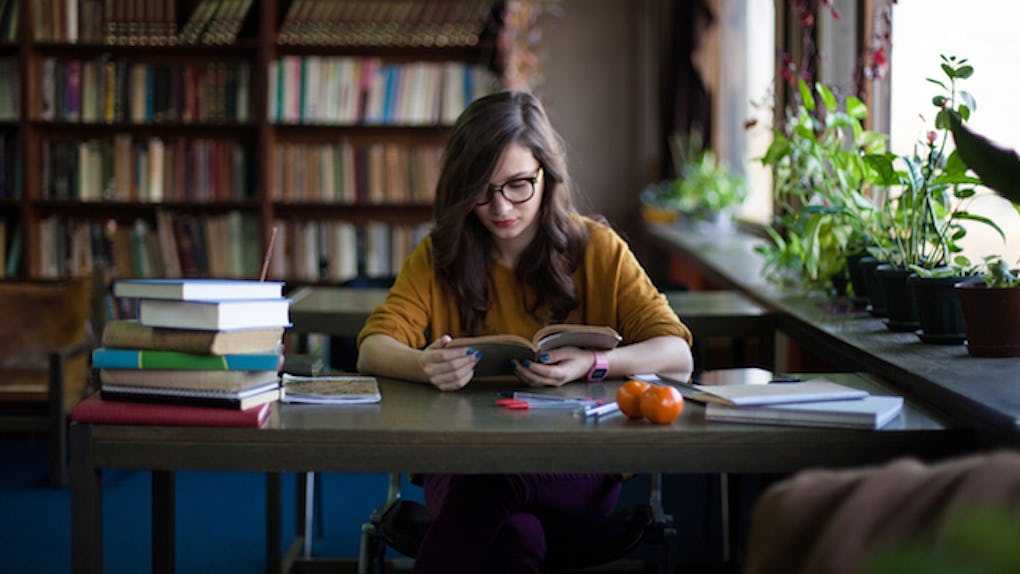 Lumina
12 Foods You Can Make In Your Dorm Room That Are Perfect For Studying
Dorm eating is its own very special practice - one that is usually associated with a spoonful of Skippy and some undercooked Ramen, right? Well, it really doesn't have to be that way; there are plenty of ways to make food right in your dorm room when you are pressed for time but need to get a supportive boost of nutrition and deliciousness.
By the end of my college days, I started to get pretty good at making meals that were both healthy and beyond easy. And pro-tip: the best things to look out for when you need sustained energy is to eat a combination of carbs, fat, and protein so that your body is digesting them at a slow, consistent rate without major spikes in the blood sugar.
Things to avoid when you want to concentrate and keep a level of energy? Simple carbs and anything that might be super heavy and fog the noggin. So while mozzarella sticks or a jar of Nutella might seem like the way to go, think about keeping some of these easy ingredients together so when that snack attack hits, you'll be ready for it.
Time to get preparing!
Easiest Burrito
Tortillas, canned beans, avocado, salsa. That's all she wrote, folks. Maybe grab some lettuce or cheese to add to this, and nuke it in a microwave if you can!
Super energy trail mix
When you're at zero hour with that paper for your Foucault class, the only thing you can do sometimes is grab into a ziplock of trail mix. So make a huge batch of power packed trail mix to have on hand at all times - filled with energy-laden superfoods like gojis to keep you on point while you burn the midnight oil. My fave?
Dark Chocolate Chips Raw Cashews Petipas Goji berries
Almond butter and apple
A classic that never gets old. Just chop up a crisp Pink Lady and spoon out a healthy scoop of your favorite nut butter. Voila!
Stuffed avocado
Avocados are great because they can just sit and ripen anywhere. So carefully scoop it out to maintain it's cupped form, and fill the middle with some tuna. Tuna pouches are super cheap and often already lightly dressed with olive oil or herbs -- plus they eliminate the mess of a watery tuna can.
Overnight oats
Do this the night before and have on hand. Just soak the oats and chia seeds in a mug or some tupperware overnight either in the fridge - (or if you're using non-dairy milk...right on your desk is fine.) Add fresh or dried fruit, nuts, nut butter or honey and cinnamon and raisins. Whatever your heart desires, really.
You can also do this with just chia seeds, almond milk and honey or peanut butter powder to make a great and healthy pudding, chock full of calcium and magnesium. A recipe I stick to?
Almond milk Oats Chia seeds Bananas or blueberries Walnuts
Tuna pouch and crackers
Get yourself some nutritious crackers -- my favorite are Mary's Gone Crackers -- open that tuna pouch and you're good to go!
Rice and beans
No, you don't have to spend hours slaving over a pot of beans. Just get a precooked rice pouch and a can of black or refried beans put in a mug or bowl, warm it up or not. Add slices of avocado, a scoop of greek yogurt or some greens you snagged from the dining hall.
PBB Pinwheel
What to do with those leftover whole wheat tortilla wraps from your burritos? Smear on some PB and chop up a banana.
A nice alternative to Ramen, get some miso packs or a jar of miso paste. Add hot water for a lovely and comforting broth while you finish up that psychology text.
Salad in a jar
This takes just a bit of planning when you go to your dining hall salad bar, but it's great to have on hand. Fill a mason jar with mixed greens, chickpeas, veggies, chopped nuts -- any salad stuff you love. Keep in the dorm fridge and you've got a nutritious plant-based midnight snack.
Super shake
Another one that's beyond easy but good to have on hand? Flavored protein and whey shakes. Just a little powder and non-dairy milk. Shake, shake, shake it, and you've got yourself...a shake.
Sandwich fixins
If you have easy access to a fridge -- why not keep sandwich stuff always on hand? And make it nutrition packed with some sprouted bread, hummus, chicken slices and cukes or sprouts.
So get snacking friends. Trust me, these are better than that midnight pizza.