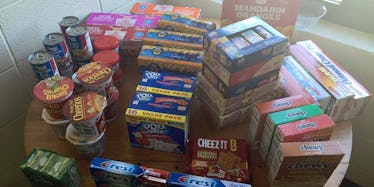 College Kid Supplies Students In Need With Essentials: Ramen And Capri Sun
Facebook
Many challenges come with being a college student, but feeding yourself shouldn't have to be one of them.
When Alabama A&M University student Justin Franks learned some of his classmates had trouble getting dinner at the end of a long day of classes, he had to do something about it.
The main issue for these students is the dining hall closes at 6 pm, but many are still in class past that time. Additionally, buying food off campus is pretty expensive.
So with no other option, some of his classmates would just go to bed hungry.
Franks, who is a full-time student and works three part-time jobs, had the brilliant idea (and the generosity) to start a food pantry with just $40.
He started off with a stash of essentials like Ramen noodles and Capri Suns.
Later, he was able to add more food options as well as toiletries and household items like tissues and toilet paper. Franks also received donations from sororities, fraternities and other students on campus.
He now runs the full pantry out of an old mail room in his dorm building.
The pantry is open from 6 pm to 11 pm and students are able to pick up three items twice a week. So far he's helped over 100 students.
Franks had no idea his initiative would blow up like this.
He said,
I didn't think it would get shared that much, but people really cared about our students and Alabama A&M University.
Helping other people is a huge part of Franks' life.
He continued,
To me, it just makes me feel like I'm blessing someone. I'm a religious person and I feel like I can bless a student. Some nights, students will be like 'Man, I really appreciate this because I didn't have anything to eat.'
Franks' mission is simple yet powerful. It just goes to show that helping others is much easier than you think, and anyone has the power to do it as long as they listen.
Citations: Alabama College Student Runs Food Pantry Out of His Dorm to Help Classmates in Need (ABC), Alabama college student turns dorm room into food pantry (FOX 5 Atlanta)