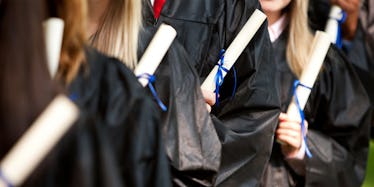 6 Ways Graduating From College Is Just Like Entering A Pro Sports Draft
Sean Locke
The annual NFL Draft concluded in April, and the NBA Draft begins its annual event June 23. What happens between those two major professional sports events? For many college seniors, graduation occurs between the NFL and NBA Draft.
That means you seniors begin your post-college career at the same time many amateur athletes turn professional. In many cases, college grads face real-life career drafts in their immediate futures. Chances are, you will not be making money like an NBA or NFL player. You will, however, be surprised how your career start relates to a pro prospect beginning his or her career in the league.
These are the six ways graduating from college is just like a professional sports draft:
1. Highly Competitive
As much as you want all your friends to find success, the sad reality is, you are competing with them for the limited amount of jobs in any industry. Additionally, you are competing with the other expected 1.8 million people rewarded with bachelor's degrees in America.
This is not unlike professional sports. They compete with college teammates and friends for a limited amount of spots in the draft. More importantly, each ascending pick means less money in their pocket.
In both cases, the difference between you and the competition is a matter of splitting hairs. Don't take it personal as you are all competing for a future based on someone's subjective opinion.
2. Judgement Based On Your Life's Work
Assuming you want a career after college, you will be judged by whatever life's work you can fit onto a single piece of paper. Many employers will make assumptions based on what they see on your resume and hear about you via an Internet search.
Draft prospects face a similar scrutiny. NBA and NFL prospects usually participate in some sort of combine or workout before the draft. These function as large group interviews. Good scouts will also look at a prospect's life work, too.
Sports franchises look at where and who an athlete played for across his or her sports career, not unlike your potential employers. Sports franchises verify athletes' references the same way your potential employer does.
3. The ceremony is only the beginning.
Participating in your graduation ceremony is optional, just like many players get the option to attend the NFL or NBA Draft.
You can dress how you want. Wear those silly patterns and a bowtie like many guys attending the draft, or wear something more traditional. Hopefully, you will not wear anything like the crazy crop top Ezekiel Elliott wore during this past NFL Draft.
Either way, the event is only the beginning. Once it passes, athletes report to their teams to begin preparation for the season. Meanwhile, you should head to your computer to send out an insane amount of job applications.
4. It's not about when you get selected.
Don't get discouraged if you do not have a job lined up after college. Don't feel envious when you see your friends getting selected for jobs you received rejections from.
Remember Aaron Rodgers was drafted by the Packers at No. 24 in the 2005 NFL Draft. Kobe Bryant went to No. 13 in the 1996 NBA Draft. That means lots of teams passed on these sports icons. Bryant and Rodgers prove it is not about when you get drafted.
Hence, you should not get discouraged if it takes longer than expected to hear your name called for your dream job. Remember everything happens for a reason, patience is a virtue, some things are better when you wait and any other applicable cliche.
5. You do not pick where you land.
College graduation could mean leaving the comfort of your home, family or friends as you search for work. Maybe you did not land a job with your dream company. Maybe you are stuck with work in a small town or a small company.
Athletes face similar consequences in drafts for the NBA and NFL. Unless you're a generational player like John Elway, who infamously forced his way out of Baltimore, you will not pick where you play or get drafted. Not every player will land with a historic organization like the Lakers. Not every player lands in a great city like New York.
Either way, both opportunities represent a start. Sacrifices must be made to reach your dreams. Put your head down and work toward your goal just like an NFL or NBA rookie.
6. Many won't be drafted.
Unfortunately, many seniors will not land a job directly after college. You may find yourself in the percentage of college graduates who are unemployed or underemployed.
Only 253 players were chosen in the most recent NFL Draft. Only 60 get selected in the NBA Draft. That means many of college's finest athletes will also find themselves unemployed.
Whether you are an athlete or college graduate, you can not control if an organization calls. Do not get discouraged if your name is not immediately called. All you can do is hope for the best and prepare to work your ass off when you do finally get an opportunity.
There are countless examples of players who didn't get drafted and dominated in either sport. Could you become the next prospect who didn't get drafted and still dominated in your industry?
Preparing For The Career Draft
You do not need to be a five-star athlete to understand what it is like to be drafted. Each college graduate goes through his or her own real-life career draft as he or she searches for a job and direction.
As a pro-prospect or recent-grad, you cannot control many factors affecting where your future begins. That might seem overwhelming, but it will pass. Just remember there are thousands of other college seniors entering the same career draft as you. These career rookies feel the same anxiety as you. All you can do is believe in yourself and the years of training you acquired in school.
Lastly, do not forget it doesn't matter where you get drafted in the career, NBA or NFL Drafts. Once you are finally drafted, it is up to you where you go from there. Like any rookie, it is about the legacy you leave behind when your career is finished.