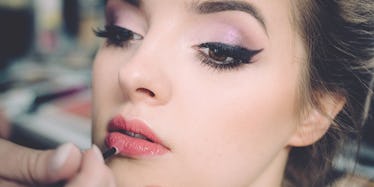 6 Dreamy Firework-Inspired Makeup Tutorials That Would Make Katy Perry Proud
Unsplash
My all-time favorite part about the Fourth of July is, hands down, the fireworks show.
Just watching those red, white, and blue explosions light up the sky makes me turn into a little kid at Disneyland once again. It's pure magic, and never fails to impress me each year.
If you're in the same boat as me, you can channel your love for fireworks with your festive Fourth of July outfit.
You'll most likely be party hopping all day long, so why not try a magical firework-inspired makeup look?
It's perfect to show your friends exactly what your favorite part of the holiday is. Plus, it will be a colorful display you'll enjoy owning until the big show later on.
Here are six makeup tutorials that will have you thinking Katy Perry wrote her song exclusively about you, because "baby, you're a firework!"
1. Gimme S'more Of This Bonfire Look
This makeup tutorial is inspired by watching fireworks by the bonfire, which is both totally dreamy and also making me super hungry for s'mores.
The combination of eyeshadow colors used in this look is strikingly beautiful.
2. Is It Worth It? Let Me FireWORK It
If your go-to makeup look for any party is a smoky eye, here's a simple option with a pop of highlighter, perfectly reminiscent of those explosions in the sky.
Pair it with the bold red lip for that pop of Fourth of July color.
3. Shine Bright Like *Glitter*
I'm a sucker for anything with glitter, so I instantly fell in love with this sparkling look.
The gorgeous combination of the glitter with a black cat eye looks exactly like fireworks illuminating the dark evening sky.
4. Red, White, And Wow
If you're looking for something with more patriotic color, this fireworks look includes the bold red, paired with white.
After you're finished with this look, raid your wardrobe for something blue to wear, and you'll look like an American dream.
5. Stand Out
If you don't want to be decked out in red, white, and blue from your head to your toes, stand out and match the fireworks instead with this purple gradient eyeshadow look.
6. Embrace The Bold Red Lip
For those of us who aren't really about the extreme colors and glitter, this look is perfect, because it's simple with just enough patriotic flair.