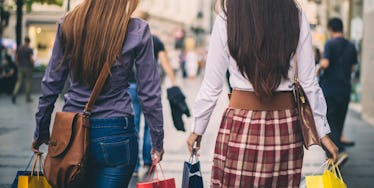 5 Ways To Dress In Style For Fall When It Still Feels Like Summer Outside
Stocksy.com
It's pumpkin spice season yet again, but that doesn't mean the temperature has gone down. Many parts of the US are going to experience unprecedented high temperatures way into this fall season, so while fashion magazines are raving about sweaters, most of us are still lazing around in our shorts.
That's at the root of a conundrum a lot of us are facing right now. It's bikini weather, but who among us isn't ready to retire their swimsuit? Apple picking in a sundress and posing with pumpkins in jorts just doesn't feel right.
However, we're left looking longingly at the sweaters and boots we've been waiting months to wear because it's just too darn hot to wear them. And if the forecasts are right, we'll all be taking our pumpkin spice lattes on ice for at least another month.
With that in mind, here's how to dress for a warm fall season.
Wear flats, because boots can wait.
Trade in your summer sandals with something cozy that won't leave your tootsies drenched in sweat. The crocheted collection of flats from Laguna Beach, CA-based brand Painted Bird is basically the light sweater your feet have been dreaming of.
And why not show off your tanned ankles for just a bit longer? Higher than average temps mean boots can stay in the closet for another few weeks – if not months.
Swap out your summer sunglasses.
The drugstore sunglasses that got you through August's glare should probably go back into your beach bag where they belong.
Still, eye protection is in vogue all year round. Why not scale up your sunnies to harmonize with your emerging autumn wardrobe?
Ray-Ban sunglasses are the perfect match for the feminine and fluffy fall coats that strolled down the New York Fashion Week runways.
If you prefer quirkier eyewear, look for chunky frames with ombre lenses in cheeky colors and unexpected patterns.
Put away your cutoffs.
There's something about summer fashion that's so unstructured. After a while, that anything-goes-attitude can make you long for a pair of well hemmed trousers.
While it may be too warm for wool right now, you can still embrace structure by trading in your jorts for a pair of pleated cotton shorts or a leather mini.
Go sleeveless and think light.
If you just can't wait to pull out your cashmere, it's time to go shopping! Replace that timeless white t-shirt with a light cream cashmere tank top -- the overall look will be the same, but the texture will put you in a leaf-peeping state of mind.
And when sleeves are a must, choose light, breathable materials that make covering up feel chic and not sweaty.
Play with fall hues.
When the temperature makes dressing for fall a challenge, color is a convenient fallback that doesn't rely on textural trickery or big wardrobe investments.
Pull out lightweight staples and accessories in burgundy, camel, olive and lush red and layer them with your summer neutrals to create fresh, season-specific looks using what you already have.
Summer may be over, but the heat lives on -- and it looks like warmer temps year round are here to stay. If you figure out now how to dress for fall when there's still beach parties on the calendar, chances are good you'll be on trend for years to come.