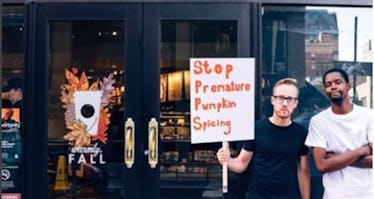 People Are Really Furious Over 'Premature Pumpkin Spicing,' As They Should Be
Instagram
Guys. I can't wait for autumn.
It's my FAV' time of year, and I can barely contain my excitement.
Maybe I'm biased because I'm a November baby or just really excited to rock oversized flannels and leather boots on the 'reg.
I mean, c'mon, we all know  fall fashion is the cutest.
Needless to say, our beloved time of year can't come soon enough -- but you know what can?
Pumpkin spice lattes.
It's true. I've sadly come to terms with the fact that the godly PSL has arrived a bit too early, once again, and quite frankly, it's breaking my heart.
Don't get me wrong, I love pumpkin spice just as much as the next coffee-obsessed 24-year-old gal, but I'm sad to see the allure of my favorite fall treat slowly disappear.
Why? Because it's August, not October, and people are already losing their shit.
Believe me, I had to use some serious self-control on my way to work today when I saw a PSL advertisement at Dunkin.
But instead of falling into the trap, I took a deep breath, looked down and backed away slowly.
I had to remind myself pumpkin spice lattes are too delicious to waste on the summer months. We're supposed to be sipping on cold brews and lemonade, not steamy nutmeg treats.
People are slowly but surely starting to hop on the anti-PSL bandwagon and are even beginning to protest coffee vendors that have begun selling it too soon.
Take this guy protesting outside Wawa, for example.
His name is Sean Bauer, and he's been protesting early PSLs for four years and counting. If that's not dedication, then I don't know what is.
He recently took his campaign to new heights by standing outside major coffee spots with a sign that reads, "Stop Premature Pumpkin Spicing."
Simple, yet genius. Bravo, Bauer.
Philly Voice got the personal scoop on Bauer's views about the over-zealous attitudes toward premature PSLs and how the lattes shouldn't be a defining factor of fall. Bauer said,
I always see people talking about the drama surround this pumpkin-spice thing. When some people think about fall, they think of horrible artificial taste. We don't see it that way. When I think about fall, I'm picturing myself wearing a flannel shirt, drinking something like apple cider, not a sugary, fake nutmeg taste.
Wawa isn't the only place Bauer's stopped by to get his point across.
As you could have imagined, he's already made his way to pumpkin spice heaven, aka Starbucks.
Bauer isn't the only one who has displayed a sense of disappointment at the summer release of pumpkin spice, either.
Twitter has been BLOWING UP lately with folks shaking their heads at the premature PSL.
Who would have thought something as innocent as pumpkin-flavored coffee could stir up so much anger?
Seriously, though, people are pissed.
Still, some people just DGAF if it's "too soon" for the bev' and would rather not pay attention to the fact that IT'S STILL SUMMER.
You do you, girlfrand. I don't mean to bring you down.
I feel the love for pumpkin spice. I really, really do. In college, I was the freakin' PSL spokeswoman.
But could you imagine how much better it would be if we had to wait for it?
Before we know it, pumpkin spice will be a summer thing, and I can't handle that kind of emotional confusion.
So, please, I beg of you, PSL gods: Slow it down a bit.
I know you think you're being kind by letting us drink our beloved lattes a few months early, but you're actually destroying the magic of a hot pumpkin latte on a cool October morning.
Let us suffer until it's really time to indulge.