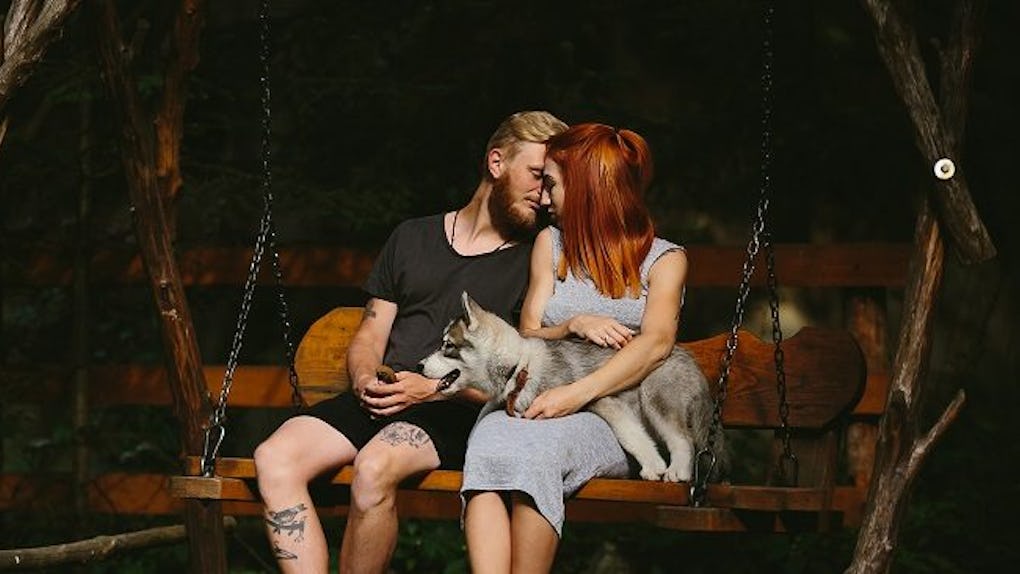 Hrecheniuk Oleksii/Shutterstock
Cute Dog Date Ideas To Go On With Your SO That Will Make You Better Dog Parents
Being a dog parent is a lot of responsibility, but it's also rewarding AF. Having your SO by your side to experience the perks and life lessons alongside you is also a major added bonus. Any kind of parenting is teamwork, so it's important that the two of you are on the same page when it comes to raising your sweet fur baby. Believe it or not, there are cute dog date ideas that will strengthen your bond with your pooch.
Just like normal one-on-one dates are a time for reconnecting, add in a pup, and you're on the road to some intense growth with each other. It's said over and over again how undeserving of dogs we are. Yes, we take care of them, but they do so much for us on an emotional level. This includes solidifying the already good thing you have going on with your SO. Clearly, every dog is a Cupid in disguise, because they'll make you love them and each other more than you ever thought humanly possible. Next time you and bae head out with your adorable pup, consider how much their very presence and a fun play day is making you two stronger dog parents.
1. Take Your Pup To Get A Puppuccino
Pipers First Puppuccino pic.twitter.com/9K7L21YJuL — BAI (@BaileyWenich) August 22, 2017
Taking your pup to go and get a Puppuccino will not only be the cutest thing ever, but you'll both share a healthy dose of swooning. Regardless who's snapping the picture or holding the pup, you're both falling head over heels for your little bundle of joy. Social media is not even ready for this cuteness overload.
2. Toy Shopping At The Pet Store
9 Dog Toy Mistakes Pet Parents Make: https://t.co/6DB7xQKUpJ pic.twitter.com/7jjIMahh9A — PawCulture (@PawCulture) August 22, 2017
Picking out toys for your puppy together will be all about compromise. Maybe you both have different views on what they will actually like. Either way, you're exercising your teamwork skills for the best interest of your pup.
3. Playdates At The Dog Park
Great day for a Schnauzer play date! Love the dog park @townofparadise !#schnauzersstrong #schnauzersofnl pic.twitter.com/P4Bhz9jGXM — Jill Follett (@JillFollett) August 11, 2017
Watching your dog play with other dogs will give you both some amazing satisfaction that you're raising a social butterfly. It's almost like when you see your actual kid playing in their preschool class. If there were gold stars for dog parents, you'd be gleaming.
4. A Dog-Friendly Cabin Getaway
A Cabin, a Fire, a Dog, and a Good Book https://t.co/bHnYu7QzLq pic.twitter.com/CJktLnq9Bz — alexander bishop (@be3hop) July 31, 2017
A cabin getaway is already cozy, so adding a dog to the scenario is absolutely golden. Not only will you be getting some well-deserved time with each other, but you'll be able to snuggle up near the fire with your dog. Could your little family feel any more complete?
5. A Trip To Their Dog Grandparent's House
It's was my aunt's dog's birthday and my grandparents went all out pic.twitter.com/kv4dNBf2Fo — Maddie G (@MadsGabro) August 7, 2017
Family time is important, so chances are, your pup knows who their dog grandparents are. It'll be adorable to see how they spoil your pup in their own way. Grandparents of any kind simply can't help themselves.
6. Taking Them To Play On A Splash Pad
A dog playing in any kind of water is enough to give anyone a case of the aw's. Whether you two join in or not, you're burning an incredibly heartwarming memory in all three of your hearts. Making memories is the key to strengthening any bond. Your pup demands nothing from you except your love. Their happiness literally relies on the time and energy you spend with them. Being a strong dog parent is relentlessly dedicating yourself to being their best friend.