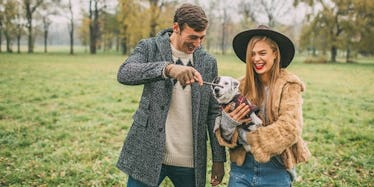 7 Cutest Dates To Go On With Bae And Your Dog This Fall
Studio Firma/Stocksy
Fall is the dreamiest season of the year. There's just something about the cool air that makes us crave all things warm and fuzzy. Luckily for you, if you have a bae and a dog, you're set for the coziest season ever. Now, all you need are some cute ideas for dates to go on with your dog that you and your bae will both enjoy this fall.
You'll certainly want your SO and your best furry friend by your side to celebrate this festive time of year, so you have to find activities everyone will get excited about. It's time to think of dates that are romantic for you and your other half, but also consider ones that your dog won't feel like they're a total third wheel. Everyone in this relationship, humans and man's best friend, is welcome to come along on these seven cute fall dates.
1. A Long Dog Walk Among The Fall Foliage
The cooler air will make the daily dog walking a little easier. Find a cute park with a beautiful and romantic trail to take your dog and bae on a stroll. You'll enjoy the beautiful fall foliage while your dog will enjoy playing in it.
2. Go To A Pumpkin Patch
Find a pumpkin patch that allows dogs and set a date. You and your SO can pick out pumpkins to carve, and your dog can pick one out, too. Why not dress your cute pooch up in a pumpkin costume for added effect?
3. Go On A Weekend Camping Trip
A weekend getaway in the woods can be a very romantic date, but it can also be one that your dog will enjoy. You and bae can get cozy in the crisp fall air, and you'll have extra fluff to keep warm with your dog by your side. You can go on a long hike during the day and get close by the fire at night.
4. Play Some Touch Football
Fall means football season is here. You and your SO can head to the park and play a small game of football, and have your dog play on both teams. It can get flirty while you're tackling each other, but you're also being a super responsible pet owner by having your dog get the necessary exercise he/she needs that day.
5. Grab A Beer At A Dog-Friendly Brewery
Find a local dog-friendly brewery or bar with lots of beers on tap. You and bae can try out the Oktoberfest beers and maybe even test out a pumpkin-flavored one if you're totally about those seasonal feels. Your furry friend is welcome to come along, but of course, no drinking for them.
6. Attend A Dog Costume Parade
When Halloween is right around the corner, a perfect fall dog-friendly date is dressing up your furry friend for a Halloween costume parade. You and bae can show off your cute dog while meeting other dogs in costumes. It's both hilarious and on the extreme of the cuteness factor.
7. Drink Some Pumpkin Spice Lattes
Apparently, they make Pumpkin Spice Lattes for dogs now, so everyone can get on the PSL train. You, bae, and your dog can all get a festive drink. It's a great date because you can all be #basic together, but totally love it.