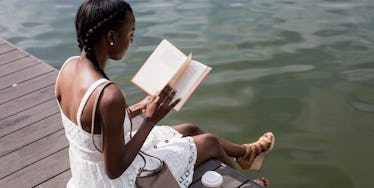 5 Best Ways To Cope When You're Dealing With College Withdrawals In The Summer
maurogrigollo
There's no better feeling than leaving those all-nighters cramming for exams in the past, and peacing out of college for the summer.
Don't get me wrong, I love what I study in school, but my summers are a limited and precious commodity.
There's something so comforting about knowing I can hit the pause button on my college life, even just for a few months.
As the summer goes on, that sentiment stays true. But, there's another part of me that's already missing some things about college, from my freedom and my college squad that knows exactly how to make me laugh, to sleeping in without parental judgement, and even the university gym.
Pretty soon, I may even catch myself *gasp* wishing I could hit up the cafeteria sandwich and salad bar.
When you start missing the cafeteria food, there's no denying it -- you're dealing with some major college withdrawals. Here are five ways to cope with the symptoms.
1. Go on as many adventures as possible with your friends.
Spend your days road tripping it, going on hikes, grabbing food at the trendiest bars on your bucket list, and exploring new places in the city you're living in, even if it's your hometown.
The best ideas don't even cost money, so put your heads together and get creative with those summertime feels. Chances are, you'll be making so many plans, you won't even have time to miss your school.
2. Pick up a new hobby you're passionate about.
If you're like me, there's probably something you've always dreamed of learning, but never got around to doing it. No more excuses; the time is now.
Convince a friend to teach you a few chords on the guitar, get involved in community service, or head to the library and check out a book on coding -- just get out there and try something new.
3. Join a club in your city or town.
If you're experiencing major withdrawals, it's probably because you miss the consistency of seeing your best friends, meeting new people, and having new experiences.
Luckily, most cities have organizations and places that make it easy to check all of those boxes. Decide on a topic you're interested in, and explore any possibilities that can come from that in your area.
Interested in getting involved with the environmental scene? Reach out to a local nonprofit or committee and volunteer with other people from your community. You'll make new friends in the process, too.
If you have a budding talent, or something you're super passionate about, summer is a great time to monetize that hobby.
Whether you have incredible makeup skills, a knack for prose, or a strong bilingual brain, you could be sitting on an opportunity to make some extra cash and strengthen your skills.
5. Learn something new under pressure.
You've got college withdrawals, right? What better way to beat the blues than to put yourself back in the thick of the college pressure.
Try studying a new language, honing your professional skills, or getting a jump on textbook reading for the upcoming semester.
In no time, you'll be shaking off the withdrawal and enjoying your summer.
With a little help from these tips, you'll be living it up and feeling renewed when it's time to go back to college in the fall.
Try not to get caught up in your withdrawal; I promise, school will be back sooner than you think.