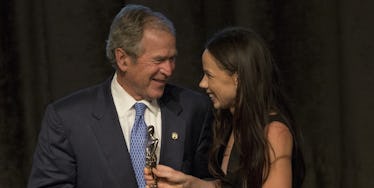 Why Respecting Women Doesn't Automatically Make You A Feminist
REUTERS
You can call yourself a "feminist" all you want… doing so doesn't magically turn you into one when you wake up in the morning.
It may just be a blanket statement you're hiding behind.
But it's time to follow through on those words and turn them into actions.
John Legend once said,
All men should be feminists. If men care about women's rights, the world will be a better place. We are better off when women are empowered. It leads to a better society.
As baby Luna may look up to her father someday in the same light, when I envision what a true feminist looks like, my dad first comes to mind. He has treated my mom and I as his equals ever since I popped out of the womb.
He never once doubted my ability to reach for the most vibrant stars, and was my number one cheerleader every step of the way as I embraced my dreams. He knew in his heart I could be whatever I wanted to be, and made it known he'll always be proud of my choices.
He brings his views on women out into the world, too.
There's an easy rule to remember here: Women aren't mystical creatures who require special attention.
He does everything in his power to make those views a reality. He doesn't do a half-ass job, or have any slip-ups along the way, either.
Jenna Bush Hager recently applauded her father, George W. Bush's "feminism."
She revealed,
People laugh at this, but I think my dad was a feminist. He showed us that we could be whatever we wanted to be. I want my girls to feel that way. I want them to feel strong and capable and feel like they can conquer the world.
Yes, feminism is about rallying for women's rights… but it's also so much more than that. It goes beyond the females in one's family.
If you don't respect and care about women's rights and issues as a whole, you're actually failing your female loved ones more than you know.
Although what Jenna Bush Hager has to say about George W. Bush is beautiful, it doesn't quite make him a feminist.
The Guardian published an article back in 2004 called, "What has George W. ever done for women?"
Bush's administration supported a "Family Time Flexibility Act," declaring it would give working moms more variety when it came to working hours.
In reality, it wasn't so flexible for working moms after all, but rather catered toward the employer's needs. The employer had the option to extend time off, or to pay overtime — whichever best suited them, and not their employees.
According to the article, the Bush administration also attempted to abandon the department of labor's network of women's bureau, which was put in place to keep women in the know of their rights in the workplace.
So, this really makes the initial question come full circle: What exactly HAS George W. Bush done for women in this country other than being a supportive father to his daughter?
History doesn't show a lot of delivering.
You can respect women all you want; that doesn't make you a feminist, either.
Mike Pence, for example, will not eat alone with any woman who is NOT his wife.
People immediately called out how sexist Pence's choice to not be alone with other woman truly is.
Editor-in-Chief of Mother Jones, Clara Jeffery, tweeted, "Would Pence dine with Ivanka? Or KellyAnne? Or are they too relegated to second class citizens."
She continued, "For that matter, how would he ever even interview a woman. With a chaperone?"
Men and women meet up for dinner or drinks all the time… for business, or friend-related reasons.
By not meeting with a woman without his wife around, that pretty much excludes any female perspective besides his wife from Pence's life. In what reality is this OK?
Ivanka Trump also called her father, Donald Trump, a "feminist."
Trump has tweeted before about the "respect" he has for women.
Ivanka told the Sunday Times,
My father is a feminist. He's a big reason I am the woman I am today. People talk about gender equality. He has lived it, he has employed women at the highest levels of the Trump Organization for decades, so I think it's a great testament to how capable he thinks women are and has shown that his whole life.
This is also the same man who was recorded saying, "Grab them by the pussy. You can do anything," to Billy Bush, in a video obtained by the Washington Post.
You can say you respect women all you want -- that alone will never make anyone a feminist.