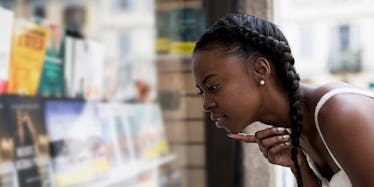 Grade Schools Are Having A Huge Issue With Racism And We Need To Talk About It
Mauro Grigollo
Principal Christine Hoffman, leader of an elementary school in St. Petersburg, Florida, sent out a seemingly racist email to the rest of her staff.
In a letter about classroom rosters for the new school year, the Tampa Bay Times reports that the principal wrote to the Campbell Elementary staff:
White students should be in the same class.
Word about the email made its way to parents, who called for her to resign. Hoffman did apologize and put in a request to be transferred to another school.
She wrote in a resignation letter published by the Bay News 9:
Due to recent events, my presence has created a distraction. As a result, I've requested to transfer and allow another person to lead this school.
So she can go over to the next school and promote segregation there, too? Jury's out on that, as well as whether or not she will actually be transferred. This sad situation shows that racism is as much an institution in grade schools as it is anywhere.
Here are a few more instances that show just how often school-aged kids experience racism like us adults:
1. People keep trying these un-funny promposals.
Racist promposals are sadly as expected as prom itself, just much less enjoyable.
2. A teacher cut a black first grader's hair.
7-year-old Lamya Cammon was playing with her hair too much for the teacher's liking. The teacher was suspended, but then allowed back into the classroom.
3. NC kids got an assignment about a bombing... and had to pick survivors by race.
Yeah. The kids were asked to choose, by race, who would survive a nuclear attack, reports a local Charlotte news station.
4. Boston high school students were told to "go back to Africa" by classmates.
High school seniors at the Boston Latin School, Meggie Noel and Kylie Webster-Cazeau, launched a campaign called "#BlackatBLS" after being bullied on Twitter by classmates, reported HuffPost.
They printed out 25 of the racist posts their classmates had posted on social media, and sent them to school officials. After BLS staff failed to rectify the situation, the protest grew into a citywide movement throughout all of the Boston Public Schools.
5. Michigan students taunted Latino classmates with a "build the wall" chant.
Thanks, Donald.
6. A Jews vs. Nazis game happened at a New Jersey high school party.
It's kind of like beer pong, but with underaged drinking and cups organized in the shapes of a swastika and the Star of David.
The teenager who outed the participants via Snapchat wrote a blog about it if your curiosity so moves you.
7. Middle school kids in Florida were given a test full of racist stereotypes.
Ladies and gentlemen, the "How Comfortable Are You" Test:
A spokesperson for the Hernando County School District told Bustle,
In no way does this assignment meet the standards of appropriate instructional material. After being made aware of the assignment, school administration began an investigation and has taken immediate disciplinary action. This teacher was within her probationary period and has been released from employment.
8. We're not going to forget the time a young black student was flipped out of her desk by a cop.
Yeah, that happened.
9. Black slaves were referenced as "immigrants" in a Houston high school textbook.
A Texas mom blasted the debauchery on Facebook:
Book publisher, McGraw-Hill, plans to revise and republish now.
10. A 6th grader was threatened with suspension for his normal hair cut.
A 12-year-old student, Xavier Davis at Cedar Bayou Junior High in Baytown, Texas, was told to either fix his hair cut or be suspended, reported Click 2 Houston.
The two lines in his hair were considered a distraction. His dad says he's shown up to the school with the same haircut for at least six months.
11. Second graders in LA were given a math problem asking them to count slaves needed in cotton fields.
The students at the magnet school (designed for those gifted in math and science) were were also asked to do a math problem about a slave man mailing himself to freedom, reported NBC Los Angeles.
Karol Gray, grandmother of a 7-year-old student there, said,
"Although it has racial undertones, I feel the worse undertone is, 'What are we teaching our children?'"
Right. What are we teaching children?
Children in grade schools are no safer from racism than adults.
They're getting physically violated by the adults they are supposed to trust.
Classmates they are forced to sit shoulder-to-shoulder with daily are verbally abusing them on and offline. And to make matters worse, they're being taught damaging lessons that they are required to learn and regurgitate back as a measure of their intelligence.
So yeah, the entire school system gets a whole L for this ongoing BS.