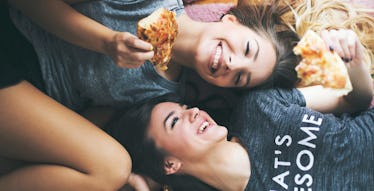 The Person You Are On Monday Vs. The Person You Are On Friday
Stocksy
Kanye West vs. Taylor Swift; Jekyll vs. Hyde; Amber Rose vs. Khloe Kardashian... these extremes more than represent that different feelings you have on a Monday vs. a Friday.
Monday is the time when you are ready to f*cking crush the week; you have new goals set that you can't wait to achieve.
Friday, on the other hand, is all about making it through the day so you can finally chill out and get obliterated with your friends.
Every Monday, however, you tell yourself the same thing: This weekend will be different, I will be productive.
But by the time that last email is sent at the end of the day on Friday, you know exactly where you are headed -- straight to the bar.
I mean, you had a tough week, don't you deserve to unwind and relax the way YOU want to? So what do the different versions of you look like on these completely opposite days?
When you wake up
Monday:
It's Monday, and it's time to f*cking kill this day. There are tons of opportunities to tackle and you're prepared for every single one of them.
Friday:
Jesus Christ, how is this week still happening? The weekend has been necessary since, basically, Wednesday. The only thing to look forward to at this point is a weekend full of nothing — no responsibilities, no emails and no obligations.
Self-Medication
Monday:
You're feeling refreshed and totally fine; there's no need for coffee! Running on a natural high is the smartest and healthiest option out there.
Can't wait to make it through the entire day without any caffeine.
Friday:
Don't f*cking speak unless it's to relay the message you are getting an IV full of coffee. That sh*t needs to be directly injected into your veins, and pronto. If that's not what you're offering, stay as far away as possible.
How you look
Monday:
Let's start this week on a positive note, I'll even take a shower! My hair looks flawless and this outfit just came back from the dry cleaner.
Friday:
I haven't washed my hair since Tuesday and I couldn't care less. These people are lucky I'm even showing up for work as it is. Do they even understand how f*cking hungover I am right now? Sheesh.
Your commute
Monday:
It's so great my company pays for my subway card. I don't know anyone else who has that luxury, I definitely need to take advantage of it.
Friday:
I feel as hungover as the first time I blacked out freshman year in college, so there is absolutely no way in hell I could tolerate public transportation. I can barely even drag my ass from the apartment to the Uber.
Breakfast
Monday:
It's a new week and a new attempt at this diet I've been swearing I'd start three months ago. Greek yogurt and some fresh fruit? I know, I kill it.
Friday:
Where is the grease? Where is the McDonald's?! I need something to absorb all of this alcohol I so stupidly decided to drink last night. When will I ever learn? Probably never.
Work flow
Monday:
I love being busy! Who needs down time when you can be productive? Bring on the extra assignments I'll never be compensated for, I just do it for the pure self-satisfaction.
Friday:
LEAVE ME ALONE! What part of this is not in my job description is so difficult to understand?! Go ask that guy in the corner because I'm pretty sure this is, literally, his job.
Peer-to-peer interaction
Monday:
Come here, tell me all of your problems. We are work besties, and this is what I'm here for. I spend all day, every day, every week with you — tell me anything and everything that's on your mind.
Friday:
Get the motherf*ck away from me and don't speak again unless spoken to. It must be nice to have all of this free time to gossip, but I actually have work to do.
Your gym decision
Monday:
This is THE week. I have a gym membership for a reason, don't I? I'm going to work out every day this week, I can feel it. Hey six pack -- I'm coming for you.
Friday:
Well, I'm clearly not making it to the gym today or tomorrow or the next day. I am a disappointment, and I don't even give a sh*t.
Your relationship
Monday:
I ain't got time for this meaningless chit-chat, I have work to do! Don't you want us to be equal breadwinners in this relationship?
Friday:
Give me all of your attention right f*cking now and don't complain when I crawl and climb all over you.
Life goals
Monday:
I can do anything I want! It's a new week and no one is stopping me from accomplishing what I set out to do...
Friday:
All I want to do is go to sleep.
Your bank account
Monday:
No one likes looking at his or her bank account after a weekend of fun activities. This is probably the only downside of Monday because come Friday...
Friday:
PAYDAY MOTHERF*CKERS!!!!!