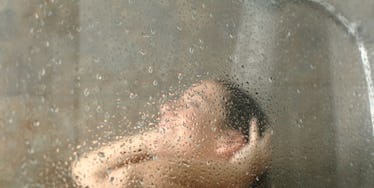 This Is No Myth: The 5 Reasons Why Girls Hate Showering
Shutterstock
Women are known for having many love/hate relationships, like with our ex-boyfriends or with carbs. But then there's also our greatest frenemy of all: showers.
This is an indisputable fact and an issue every female has dealt with at one point in her life. Our shower schedule gets in the way of everything, from our gym routines, to our weekend activities.
Deciding the optimal time to take a shower is crucial because everyone knows how horrible it is for your hair to wash it every day.
My life changed for the better back in sixth grade when I was blessed with my very first hair-straightener (shout out: Hot Tools), you can thank my fellow Jews at camp for that one. Literally, my life changed -- no longer did I look like I stuck my finger in an electrical socket, I now had hair to be proud of.
Men have it sooo damn easy; they hop in, wash themselves for about 7 minutes, walk out and are good to go for the night. For the female, however, this is a 2-hour commitment.
Getting ready for a night out is difficult enough when choosing an outfit, so trying to tame that Jew-fro (No? Just me?) is even more of a challenge.
The struggle is real and I am here to break it down for you. Men, if you're reading this, hopefully you can learn to understand and stop rushing your girlfriend when she's trying to get ready for dinner.
1. Hair washing
This is perhaps the worst part of showering for a female. You can't wash your hair every day or you will dry it out and it will resemble straw.
This is especially an issue for blondes because the lighter your hair is, the easier it is to see breakage and split ends.
If you have thick hair, you can get away with washing it less during the week, but if you have thin hair, you know how greasy it gets after one day.
If you have frizzy hair, you know how beneficial it is to shower the night before an event or activity so that you can sleep on it and tame the frizz. WTF. When did life become so difficult? You literally need to schedule when you are going to wash your hair.
Ladies, how many times have you skipped spin class or hot yoga because you JUST did your hair? Don't lie; we've all done it. In fact I'm not spinning today because I washed my hair last night -- looks like it's abs class for me after work.
2. Shaving
This is just a f*cking pain in the ass. Men you don't know how lucky you are that you can skip this aspect of life (for the most part). It must be nice to have that extra layer of hair on your body during the winter to keep you warm.
Shaving your legs is a practice all its own. Going out that night? You better shave your legs, as close to going out as possible since the concept of a 5 o'clock shadow is real, even for us.
You think this stops at legs? Arms, armpits and "down there." Shaving your entire body takes as long as a guy's shower.
The worst part is when you are getting ready and you realize you missed a spot. UGH, life doesn't get any easier does it? Of course waxing is an option, but honestly that sh*t is painful and expensive.
3. Spending a fortune on hair products
I don't know what I spend more money on: hair products or rent. You've got your smoothing hair serum, your anti-frizz spray, your heat protective hair serum, your root plumper -- the list goes on and on.
I don't remember the last time I used fewer than 4 products in my hair at once.
As smart as we think we are, the second a stylist recommends a product, we don't care if it's $5 or $50, we'll take it. The more you shower, the more hair products you have to use, aka the more money you're spending.
4. The process afterwards
It's not really that we hate showering; it's the process that comes next. If my hair dried the way I wanted it to be styled, I would literally shower three times a day. But unfortunately, we are not men and that is far from the case.
Just because your shower only takes 20 minutes, that doesn't mean you're out of the woods just yet. Detangle, defrizz, brush, blow and straighten/curl.
My God, two hours later and we're finally ready to start getting dressed. No wonder we're always late, it's a tough job being a girl.
5. It's f*cking cold
You all know the dreaded moment when you have to turn off the water and all you want to do is collapse in a ball on the floor, wrapped in your towel.
The second you open your shower door/curtain and that first gust of air hits your face, it's HORRIBLE. Why is this something that females only seem to face? Life just isn't fair. We get our periods once a damn month, can't we just leave it at that?
Getting dressed is a pain, you want to figure out the best way to maneuver dressing yourself while never taking your towel off. The key here is to remain as covered as possible for however long you can. Try and try you may, but honestly you'll more than likely simply fail and freeze.