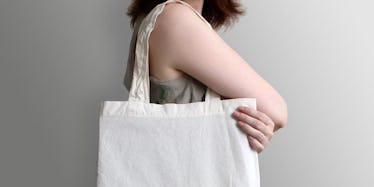 People Think These Fashion Tote Bags Joke About Terrorism Threats
Shutterstock
Fast fashion online retailer, Romwe, is getting criticism for selling a tote bag with the these words written across the front:
This bag contains a gun, a bomb, a very large knife and loads of drugs.
The $9.99 bag is seemingly meant to be a harmless sarcastic joke and to be fair, Romwe isn't the only retailer that is selling or has sold the bag. It's also been sold by Whimsy Bags on Etsy, KissMeBangBang.com and Fancy.com.
Apparently, the original creator of the bag is DJ Trevor Jackson.
The tote bag was previewed in 2010 and released officially in 2012.
It's no longer for sale on that site, but there's an interesting product description on Deejay.de.
[The tote bag is] an ideal gift for any friend or enemy. The perfect airport travel bag & ideal provocation for heavy-handed club security, don't be seen without one!
Boy did people buy in.
One user pointed out the privilege associated with who can wear it without a hassle.
People may mean no harm, but the quote makes light of terrorism fear, as pointed out by Hello Giggles.
Terrorism is so often used as a way to sensationalize news stories and the source of many dangerous stereotypes against people of the Islamic faith, yet it is still important to note that terrorism fear and anxiety is real.
According to the New York Times, fear of terrorism was higher during a 2015 poll than in the weeks following the 9/11 attacks. The article also carefully notes that such fear was a contributing factor in our very problematic POTUS gaining support that eventually won him the 2016 election.
And then there are thousands of people who still suffer from PTSD as a result of 9/11, over a decade later. The disorder rears its ugly head via insomnia, sensitivity to loud noises and survivor's guilt.
Just imagine the eye roll the TSA gives when someone strolls through their already antsy place of business with a terrorism joke on a bag. Especially ones where terror attacks have actually occurred, like the Ataturk airport in Istanbul.
That said, is this tote bag — that may be a real trigger for many — even worth its $9.99 trouble?
Probably not.