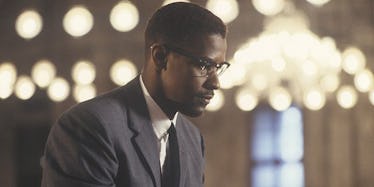 7 Things You Never Knew About The Life And Death Of Malcolm X
REX/Shutterstock
Fifty-two years ago today, Malcolm X was killed while delivering a speech at the Audubon Ballroom in Harlem.
The shooting of the then 39-year-old took the life of a complicated and legendary figure who had been going through a transition period in life.
After years of helping promote the ideals of the National of Islam, Malcolm had a falling out with the group. Shortly after that falling out, his assassination occurred, creating suspicion that the two were linked.
In between, however, a couple of key events happened in Malcolm's life that often get lost.
Here are a few:
He was terrorized by the Klan during childhood.
Malcolm Little's family had unfortunately been the target of multiple attacks by a Ku Klux Klan sub group, known as the Black Legion.
At one of Little's homes, the Klan had smashed his family's windows; a different home was burned down altogether. Malcolm's father disappeared after leaving the home late one night, and was run over, amid suspicion that the Klan was behind the attack yet again.
And, as History.com details, Malcolm once said his uncle was the victim of a lynching.
The FBI obsessed over him.
Under infamous Director J. Edgar Hoover, the FBI watched Malcolm X like a hawk, and as CNN mentions, there are two key details that illustrate just how much they kept tabs on Omaha native.
During a 1954 meeting in which only 12 members, including Malcolm, were present, the FBI was still able to get an informant to report back to it, CNN writes.
By 1964, Hoover had sent a message to his New York, ordering "something" be done about Malcolm X.
A year later, he was shot dead amid speculation that the bureau knew about the plot to kill him and still did not intervene.
His tone on separatism softened before death.
Malcolm was noted to have been softening some of the stances he had so aggressively stood for earlier in his life. One example?
Before his death, Malcolm wrote to New York Times reported M. S. Handler, per the New Yorker,
Some of my very dearest friends are Christians, Jews, Buddhists, Hindus, agnostics, and even atheists—some are capitalists, socialists, conservatives, extremists . . . some are even Uncle Toms—some are black, brown, red, yellow and some are even white.
Here, Malcolm shows his rhetoric on separatism changed and he showed more understanding of the idea of integration.
He was killed right before unveiling a new political program.
Malcolm X was on the verge of taking on new political initiatives in 1965.
On the day he was killed, he was supposed to reveal a program that would have worked increase voter registration, organized efforts against police brutality and an appeal to the United Nations to condemn the United States for human rights violations, The Guardian details.
That Malcolm was interested in voter registration is worth noting, as his concern for blacks' participation in the electoral process was a concern that developed later in his life.
At the time of his death, Malcolm had no specific philosophy.
For many, Malcolm X's was defined by his aggressive, by-any-means-necessary persona. But the black history icon was also defined by the constant evolution he went through in life.
His last stage of development saw him separate from the Nation of Islam. He drifted into a space that left him without a specific movement to get behind.
The famed journalist Alex Haley quoted him as saying,
I'm man enough to tell you that I can't put my finger on exactly what my philosophy is now, but I'm flexible.
According to the New Yorker, that statement came just three days before his death.
Malcolm's own security failed to protect him.
CNN notes there was an unusual lack of police presence at the Audubon Ballroom on that fatal Sunday afternoon in 1965, particularly considering the size of the event Malcolm was speaking at.
Still, Malcolm had his own security staff, but they had been of little help. The staff did not conduct searches of audience members before entering, reportedly at Malcolm's request, CNN says.
Even more strange, however, his security had not jumped to his defense once shooter began attacking, according to CNN.
Before he died, he reportedly scheduled a meeting with MLK.
Malcolm was schedule to meet Dr. Martin Luther King Jr. just two days after the fatal shooting in Harlem. That's according to James Cone, the author of "Martin & Malcolm & America: A Dream or a Nightmare."
Cone relayed that information to journalist Terry Pristin, who wrote about Malcolm in the LA Times back in 1992.
Pristin had been writing in lieu of Spike Lee's biopic, "Malcolm X," which was released in the same year.