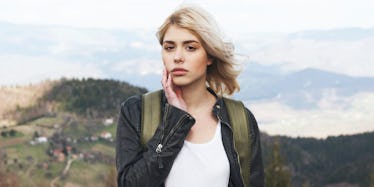 The 10 Things That Solidify WVU As The Number One Party School In America
As much as it pains me as a Penn State alumni to admit, West Virginia University more than deserves the number one spot on Playboy's Top Party Schools 2013. After earning a place somewhere on this list for the past few years, WVU finally earned the spot they've worked so hard to win.
Morgantown, WV is a college town unlike any other. WVU may happen to be in the middle of nowhere in a state that has no direct airport, but the student body at WVU still knows how to have a lot more fun than most universities in the country.
This school encourages any and all activities that hope to unite its students, with huge music acts almost every semester being just one of those events. Plus, what other school allows you to drink beer inside the stadium? This perk is literally a game changer.
Don't agree with Playboy's rankings? Check out the reasons below that will be sure to change your mind.
1. "I'm Smacked"
"I'm Smacked" videos for essentially every big event that happens at this school is something no other university can boast about.
2. School Spirit
This video says all there is to know about the school spirit at WVU: chants, on chants, on chants.
3. Epic Tailgates
Want to see one of the craziest tailgates in America? Head on over to Milan Puskar Stadium at WVU and you'll see thousands of blacked out students running around the parking lot shot-gunning beers.
4. Fallfest
Watch the video of Fallfest below and understand.
5. Football
What other school decks out their football games with fireworks quite like WVU? I've been to a fair number of college games and never have I seen something of this magnitude.
6. Saint Patrick's Day
Saint Patrick's Day at WVU might actually top Penn State's pride and joy, State Patty's Day.
7. DJ Appearances
Famous DJ's have recognized how epic the scene is at WVU and have capitalized on their fan base by making appearances at the school. From Avicii to Kaskade, these students have some of the best times at these shows.
8. Riots
WVU students find any excuse to riot, from beating Texas Tech in 2012, to the assassination of Osama to St. Patty's Day. The students take it to the next level, burning couches and basically anything anyone can get their hands on.
"True Fact: Morgantown drinks 1% of Anheuser-Busch's alcohol sales every year. Enough said. The only place where drinking and driving, burning couches in the street, and tearing out your own teams goal post when they kick Big East Ass is legal." - Urban Dictionary
9. Free Drinks On Thursdays
This is the only school I've ever heard of, which has one night (Thursday) when a handful of bars provide free liquor and beer all night for students. This school literally encourages their students to get sh*tfaced. Shout out to Bent Willey's, Joe Mamas and Whisper!
10. Fat Daddy's Fireball Shot Record
WVU holds the world record for fireball shots consumed in one night at one bar, Fat Daddy's. Don't believe it? They have a trophy to prove it.
To check out more information on life at West Virginia University, go to the 25 GIFs that perfectly describe going to WVU.
Photos via Facebook