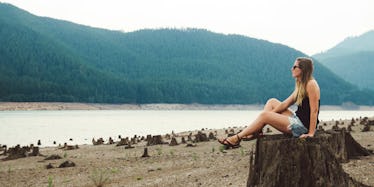 The 25 GIFs That Perfectly Describe Going To West Virginia University
Stocksy
West Virginia University is a research institute founded in 1867 and currently holds a student body of around 22,000. This is one of the safest campuses in America. The student body here comes from a wide variety of backgrounds; however, a good majority of the students come from the swamps of New Jersey.
West Virginia is known for its exceptional sports program, which leads to a lot of parties and great sporting events. In particular, their tailgates may leave the the average college student in the dust -- as these kids can drink. Students are known to go so hard for tailgates that they don't even make it to the actual game.
Not only do students have good sports teams to enjoy, but they also have great festivals. The marque festival in WVU is the FallFest event that allows students to enjoy musical performances and just get wasted. If you ever wonder what it's like to be a student at this school, then you will find these 25 GIFs That Perfectly Describe West Virginia to be helpful.
When you know how to get to Mario's Fishbowl with your eyes closed.
When someone tries to say that "the run" wasn't the greatest play in sports history.
When someone asks you for a piece of your pepperoni roll from Mario's.
When you hate Mark Way.
When you set a couch on fire at least once a semester.
When someone from Pitt tries to hate on WVU.
When you set a couch on fire because someone says Pitt is a better school.
When you adore the drunk bus that picks you up from the Towers.
When the SGA vice president gets arrested for a DUI after campaigning for public safety.
When seeing weird things on Grant Street becomes a norm.
When your mascot shoots a bear.
When you get used to half naked bartenders because of the Cellar.
When you have to get carried out of the Cellar after too many 50 cent pitchers.
When you realize that you went to BPM on a Wednesday again.
When you can't stop drinking cinnamon whiskey shots at Bent Willey's.
When you get to see girls chow down on wings, pizza and BBQ during happy hour.
When you haven't made it to a game all year because you get too wasted at the tailgate.
When you get voted as one of the least studious schools by the Princeton Review.
When you get f*cked up and celebrate that you are one of the least studious schools.
When you know all the words to "Country Road."
When half of the student body could be cast for the "Jersey Shore."
When you can point out a New Jersey native by his plaid shorts.
When someone asks you if you've been to a party promoted by DubVNightlife.
When you regret going to the strip club Obsessions every time you go there.
When you leave Happy Hour at the Back Door feeling too full and too drunk.