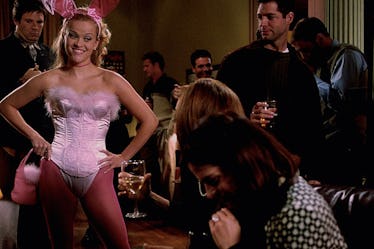 12 Costume Ideas Every '00s Girl Should Bring Back This Halloween
Metro-Goldwyn-Mayer
We're all over 2016.
But, it's nearly Halloween, which means it's nearly Thanksgiving, which means it's practically Christmas. So, it's basically the end of this damn year already.
It also means you have a chance to cast your mind back to a time without real-life killer clowns on the loose and bring back the fancy dress classics of yesteryear -- the retro movie looks and pop sensations that ruled your younger years.
There was one day a year in the 2000s when you'd hang up your low-rise flared jeans, your platform flip flops and let your hair down (literally, from all the butterfly clips you'd been using) to pay tribute to your nearest and dearest.
You'd spend hours agonizing over whether to go as your favorite singer or your favorite TV actress, to go in a group costume (umm, not Troll Dolls again Susan *rolling eyes emoji*) or to be bold and go at it alone.
You wanted to tread the fine line between being original and entertaining, and looking totally uncool.
Halloween was a time you could really express yourself, and that time has come again.
Look no further for costume ideas, here are 12 of the most memorable icons every 2000s girl should dress up as for Halloween this year:
1. Cher and Dionne from "Clueless"
So much plaid. So much sass. Ultimate BFF costume goals.
2. "Lara Croft: Tomb Raider"
Unquestionably the most badass costume around.
She also carries around a backpack at all times which is actually quite handy for packing a jacket in since Lara Croft basically only wears a tank top and shorts and you don't want to get hypothermia walking home (and especially useful if you're walking home the morning after, if you know what I mean).
3. Britney Spears: The Early Years
While we're all happy for 2016 Britney getting back to her fabulous, world-dominating self, she doesn't offer much in the form of fancy dress.
There are just SO many options when it came to late 90s/early 00s Britney. Do you go for the "Baby One More Time" look? Squeeze into a "Toxic" cat suit? Or go all out "I'm A Slave 4 U" style? And there's always Britney circa 2007, of course.
Also, if you're trying to persuade bae to join in on your costume then look no further -- you can recreate Britney and Justin's iconic American Music Awards look. Head to toe denim and cowboy hat and diamonds? Breathtaking.
4. "Buffy The Vampire Slayer"
You only need to wear a cardigan, a pair of boots which, by the way, you'd never be able to outrun a vampire in and carry around a pointy stick.
Maybe you'll find a tall, dark and handsome ~angel~ too, get it?!
5. Paris and Nicole: "The Simple Life"
I mean, IMO, people just don't wear enough denim anymore. Or Von Dutch hats. Or carry around tiny shoulder bags that could only really fit your keys.
It was a strong look. Bring it back, ladies.
6. Romy And Michele: "Romy and Michele's High School Reunion"
Possibly the cutest costumes that will ever exist. Ever.
7. Spice Girls
You've got all the girls in the group sorted as long as someone is willing to ditch the "in girl world, Halloween is the one night a year when a girl can dress like a total slut and no other girls can say anything about it" mentality and wear a tracksuit bottom/crop top combo to be Sporty Spice.
No wonder Mel C doesn't want to reunite.
8. "Mean Girls"
If only Halloween was on October 3rd.
And on a Wednesday.
Can you believe this option came onto the scene in 2004? Twelve years ago, you guys. TWELVE.
9. "The Breakfast Club"
Sure it's from the '80s, but it's a timeless classic.
A brainiac, an athlete, a basket case, a princess and a criminal?
#SquadGoals
10. "Coyote Ugly"
There's a high chance that people may think you've forgotten it's Halloween and you've all just got a really, really bad fashion sense.
Wear some cowboy boots, get on a bar/kitchen counter/anything above ground level and burst into a rendition of "Can't Fight The Moonlight" and people may just get it.
11. "Ghostbusters"
Well, it wouldn't be a Halloween list without at least one spooky addition now would it?
Plus, now even Hollywood has acknowledged that girls can kick paranormal ass just as much as boys can.
12. "Cats! The Musical"
Because there will always be at least three cats at every Halloween party no matter what decade it is.