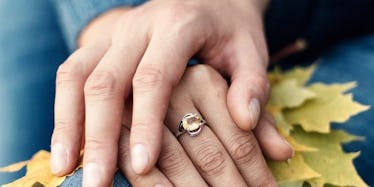 7 Colorful Engagement Rings Under $200 That Beautifully Break Tradition
Zalina Kazanceva/Shutterstock
There are so many traditions embedded in the idea of marriage and the wedding. Even when it comes to the engagement ring, there are expectations of what it should look like. For those of us who aren't willing to travel down the road that's expected, straying from the norm is alright in our book. These colorful engagement rings will not only stand out on your finger, but their affordable pricing will put a smile on your face. Different colored gems in a ring make it less cookie-cutter, and more personable. The color usually matches some beautiful quality of the person receiving it. Who says we all have to go with the gold band and white diamond? Just like your marriage will not be like everyone else's, your engagement ring doesn't have to be, either.
The beauty in an engagement ring is only partly attributed to how it looks. For the most part, it's the romantic gesture that counts. Gems and diamonds can be used interchangeably. So, if you're more into colors than you are a plain diamond, a gem engagement ring may be the right thing for you. Don't stress about it too much, though. If you didn't think a colorful engagement ring could not only be your style, but super affordable, you've come to the right place to find out. Here are seven styles under $200 that beautifully break tradition.
1. Mystic Topaz With Sterling Silver
Princess Cut Rainbow Topaz Ring, $96, Etsy
For all of the mystic queens out there, this one is totally up your alley. Where the band is missing the traditional gold or silver coloring, it's made up for in the rainbow glimmer here. This ring is so magical.
2. Aquamarine Gemstone Ring
Aquamarine Gemstone Ring, $158+, Etsy
The floral band on this ring is so gorgeous. The design pairs so gracefully with the aquamarine center. Something about floral is timeless and oh-so-elegant.
3. Emerald And Opal Mix Ring
Sterling Silver Natural Emerald & Colorful Opal 5 Stone Vintage Design, $173, Etsy
Opal goes well with so many things. It's like a glittery, white canvas that you can pair with any of your other favorite colors to really make them pop. Opal is where it's at for a spectacular engagement ring.
4. Heart-Shaped Ruby Ring
Heart Cut Ruby Ring, $105+, Etsy 
The heart cut says it all. Not only does the color stand out, but the shape is, of course, timeless and beautiful. If love could be in physical form, this would be it.
5. Pear-Shaped Garnet Ring
Pear Cut Garnet Ring, $108, Etsy
The shape of a ring in a different color can really change the whole appearance. This simple, yet stunning ring looks so much better with this cut. The band also doesn't take away from the garnet at all.
6. Blue Diamond Heart Crown Ring
Enhanced Blue Diamond Heart Crown Ring in Sterling Silver, $139, Zales 
It's time to feel like total royalty. Anyone who receives this ring has no choice but to feel like a princess from a fairytale. That icy blue color completes this ring's major bling.
7. Purple Amethyst Cocktail Ring
Womens Genuine Purple Amethyst Sterling Silver Cocktail Ring, $109.99, JCPenney
Carry that violet amethyst with you wherever you go. This color is seriously so enchanting. Not many people can say they have or had a purple engagement ring. Having a colorful engagement ring is a beautiful, authentic detour from traditional rings. Look for something that defines you -- the amazing person stepping into an exciting, new marriage.