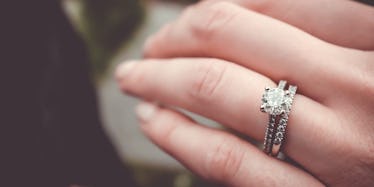 12 Stunning Engagement Rings Under $200 That You'll Never Want To Take Off
Cue the wedding bells. Or, maybe not. It seems like each year, weddings are getting more and more expensive... like, we're talking an entire year's worth of college tuition kind of expensive. Yikes. With a wedding costing you an arm and a leg, the very last thing couples will want to do is dish out another limb for an extremely costly engagement ring.
Luckily, you don't have to. These 12 absolutely gorgeous engagements rings $200 and under will have you head-over-heels in love with the bling, and saying "I do" as fast as you can. Your love doesn't have to break the bank, and these stunning rings prove it.
1. Yellow Gold Halo Ring
Halo Engagement Ring by Zhedora, $200, Etsy
Just look at that downright stunning sparkle. This yellow gold ring certainly commands attention. No one will be able to guess it's only $200; the little secret can be between you and your SO.
2. Yellow Gold Glitz
18K Yellow Gold Moissanite Engagement Ring With Diamond, $200, Etsy
The small diamonds on the band add the perfect finishing touch to this number. Not to mention; the shape of the stunner in the middle is classy AF. Bring on the glitz and glam.
3. A Simple Yet Beautiful Band
Morden 14K White Gold Round Half Eternity Diamond Ring, $200, Etsy
This ring is a match made in heaven for the chick who loves simplicity. The silhouette is elegant, and the slight sparkle will catch the faintest light. It's perfect for just a little bit of magic.
4. Rose Gold Halo
Engagement Ring Round Cut Halo Solid 14k real Solid Rose Gold Bridal band With Simulated Diamonds wedding ring by Zhedora, $200, Etsy
This ring is all types of trendy. The halo cut is the perfect match for the rose gold color, and the circle shape has been all over Pinterest. You don't have to break the bank for this $200 look.
5. Classic Glam
Classic Designer Inspired Bridal Matched Set, Made to Order, $200, Etsy
What's so special about this, do you ask? This glam set was meant for the girl who can't get enough bling. The square diamond just screams, "Look at me, people!"
6. Wine Garnet
925 Wine Garnet / White Topaz Ring, $199, Etsy
How can you not be in love with the old-fashioned look of this ring? The unique stone is just special for a girl who likes to go against the grain. Best of all: No sticker shock.
7. Vintage Pearl
Vintage Pearl 14k Yellow Gold Ring, $199, Etsy
The pearl-focused style of this ring is seriously flawless. The pearls add a classy touch of refined elegance that I'm downright obsessed with. It's the perfect choice for any 1950s gal at heart.
8. Oval Cut
Morganite Ring, $199, Etsy
Are you craving something modern but different? The oval cut of this ring is oh-so trendy in the wedding world. Lovers of eccentric jewelry will especially appreciate the side accents and simple band.
9. Victorian Style
Victorian Style Simple Women Gold Plated Ring, $199, Etsy
The Victorian style simplicity and antique finish make this such a unique ring. Brides who don't find themselves enamored with the glitz and glamor of over-the-top rings will appreciate the muted look. It looks good on its own, or with a few stackable rings.
10. Simple White Sapphire
14K Rose Gold 1/2 CT White Sapphire Engagement Ring Plain Classic Solitaire Engagement Ring, $199, Etsy
The beauty of this ring is the timelessness of the simple cut. It will look great in your pictures now, and even better 30 years from now. Even your grandma will love it.
11. V-Shaped Princess Cut
0.5 Carat Princess Cut Aquamarine Ring In Solid 18k Rose Gold On A V-Shaped Band, $199, Etsy
You will never go wrong with rose gold. The illusion of a dropped stone gives me all sorts of princess vibes. Even Cinderella would be jealous of this stunner.
12. Pear-Shaped Morganite
Morganite Ring, $146, Etsy
Though pear-shaped rings aren't as popular right now, this one could set the bar. This ring is beautiful, and the seller is willing to customize the color. Talk about a steal.