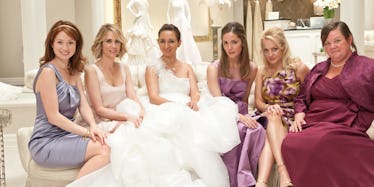 This Bridezilla Made Her Bridesmaids Chip In For Her $10,000 Wedding Dress
Universal Pictures
It's no secret that being a bridesmaid is an honor and sometimes a financial burden. Sure, there are some expectations of bridesmaids that kind of go without saying, like spending time planning and throwing an awesome bachelorette party and maybe paying for some stuff.
But there's a line. And this bride totally crossed it.
An anonymous bridesmaid wrote about her experience with her friend, Caroline, who asked way too much of her bridal party. She was going to be one of seven bridesmaids for her friend and was initially "overjoyed."
Caroline turned out to be quite the needy bridezilla by asking way too much of her bridesmaids. Here's an example of an email received in the middle of work.
"How's it going? I need some cake-maker suggestions by COB today please, Jase and I really want to get a wriggle on with this and need the contact details, price brackets, flavours and an idea of how prestigious the vendor is – in a table would be great. Excel is probably best please. Thanks!"
OK, so that right there is pretty demanding. But the anonymous bridesmaid chalked it up to wedding stress and moved on. I think she was being a great friend by even accommodating these time-consuming requests from the bride.
But that wasn't the worst of it.
The bride made her squad of bridesmaids go dress shopping with her for three consecutive weekends until finally deciding on a dress that cost $10,500 -- which was twice the amount she had budgeted for. The anonymous bridesmaid was relieved that the search was over, even though her own bridesmaid dress ended up costing a whopping $550.
That night, she got an email from the bride with the subject line that said, "Bridesmaid dress contribution." Yup. The bride was asking the bridesmaids to pitch in for her wedding dress because she and her groom totally blew the budget. Oops.
To any normal person, this would be an outrageous request. Being a bridesmaid in this case also meant footing the bill for the bachelorette party, the bridal shower and three spa days prior to the wedding. These expenses add up and put a huge strain on the bridesmaids.
This is why friends and money are a dangerous mix. It's totally unrealistic for a bride to rely financially on her bridesmaids for all of this and the dress for just one day of matrimony. This type of bad bride behavior can drive friendships apart. At the end of the day, what means more? Pretty bridesmaid dresses or years of friendship?
At the end of her post, the anonymous bridesmaid writes,
I'm starting to think I might have to bail on this wedding and friendship.
Citations: Bridezilla Demands Bridesmaids Chip In for Her $10,500 Wedding Dress (Good Housekeeping)