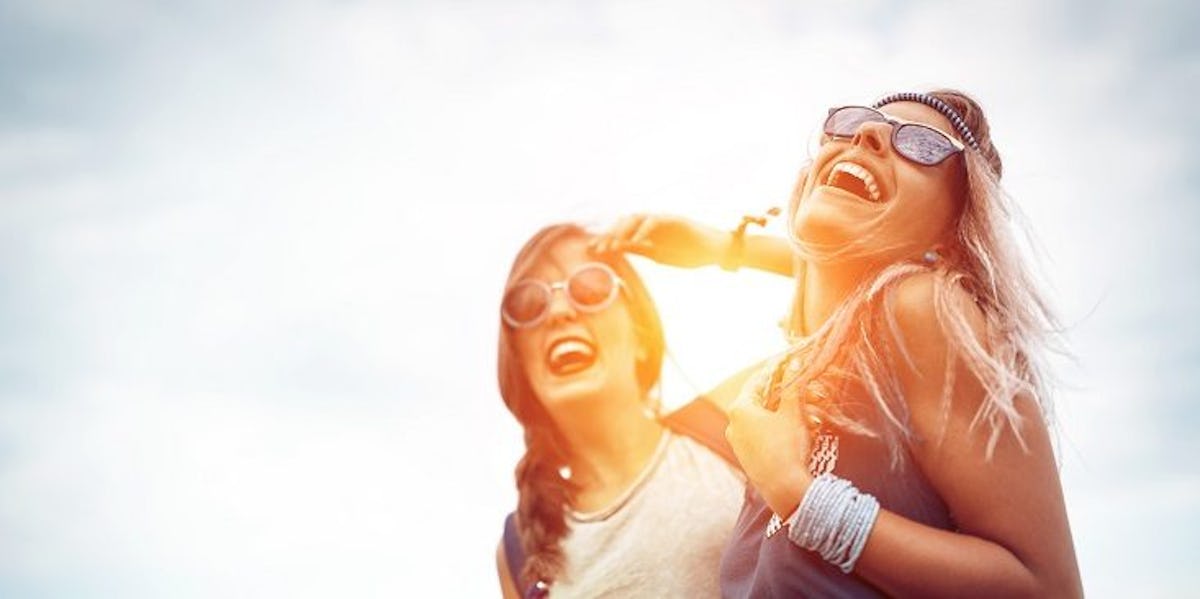 7 Bittersweet Moments Your Heart Will Endure When Your BFF Lives Far In Your 20s
nd3000/Shutterstock
If you've ever had a long-distance best friend, you know that it can be a tormenting situation, but the subtle adult in you knows that you two have become even stronger from the miles between you. It's an extremely difficult adjustment going from having a convenient ride or die within arm's reach, to having to plan a video chat date just to catch up and see their face. There are more than a few instances you'll have to endure when your friend lives far away in your 20s, and these moments make you further realize the distance.
There's no telling when these moments will occur throughout your friendship, because every BFF bond is different, but expect to feel all the things. It's crazy to think that this person was once a stranger to you, and now you're literally bundled up on the couch watching Sister, Sister while low-key sobbing a bit because your main squeeze isn't sitting next to you. It's sort of the price we pay, though, for even being able to call such an amazing person our best friend. In all honesty, the sad but cute moments we must face when our BFFs are far away, truly do humble us an incredible amount. So, if you've ever dialed your BFF immediately because of a situation that made you miss them intensely, you probably experienced one of these scenarios.
1. Wanting To Go Out Just Because, But Don't
Remember when you'd call your BFF and say you wanted to go out dancing just because you were in the mood? When your favorite dance partner ain't so close, your anticipating dancing feet may do a slow tap as they head straight for bed. No one turns up like your best friend or accompanies your spontaneity the same way.
2. Laughing Alone At Funny Videos
If you've never laughed at some sort of hilarious video with your BFF, is your friendship even real? No matter how old this particular video gets, it still sends you into endless minutes of laughter. Coming across this video on your news feed will have you missing your relentless laughing buddy who's usually replaying the video as you're on the brink of peeing your pants.
3. Refraining From Telling An Inside Joke
It all happens so abruptly: you're standing at the water cooler and someone feeds you the perfect line to blurt out you and your BFF's hilarious inside joke, but there's one thing missing -- her. Holding in an amazing inside joke is worse than holding in a fart and a sneeze at the same time. It's super excruciating, and you'll wish your BFF could teleport just to save you and the honor of the joke.
4. Changing Your Emergency Contact
Look, some of our BFFs are like our family, so having them as an emergency contact is almost mandatory. But when your BFF is super far and you have to change their name on the dotted line, it's almost hard not to panic and feel desperate for their company. Thank you, work protocol, for further making us realize that our best friend isn't so close.
5. Forcing Yourself To Hang Out With People
As much as you want to be a hermit crab and wait for your partner in crime to make an appearance in your life again, the thought of sheltering yourself from other human beings is unrealistic. It can be hard trying to sort of start over and circulate through social circles, because you know your BFF would want you to at least make friends. They'll remain just friends, though, because the best friend position has been filled indefinitely.
6. Having To Explain Quirky Facts About Yourself
There is nothing worse than having to explain those interesting traits about yourself to a person who doesn't comprehend. Your BFF already knows the ins and outs about you, and explaining was never something you had to do with them. They just got it.
7. Having Zero Excitement For Special Occasions
Whether it's your birthday or an annual Christmas party, if your BFF isn't your plus one, you aren't super excited about it. Celebrating doesn't seem right without them. You two together are the pulse of the party. Being far away from your BFF in your 20s is one of the hardest things you'll put your heart through. The good thing is that even if they aren't physically by your side, you have enough mental notes to remember how tremendously close the two of you are.