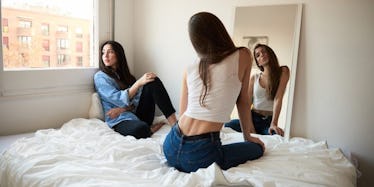 6 Cute Things To Do When You're Missing Your Long Distance BFF
Life is messy, and sometimes, that means getting separated from the people you cherish most. Whether you're graduating from college, spending college summers back in your hometown, or embracing a new career change, you never know where life will take you. And you want to know the worst part about it? Being separated from your BFF. When you're missing your long distance friend, it's easy to get caught in a cycle of self-pity and loneliness. When that happens, the best route is to stop the sadness right in its tracks. It's time to turn that frown upside down.
We all know this is easier said than done, right? I'll admit it, it's difficult to stop yourself from feeling overwhelmed when your bestie isn't there to help. It doesn't necessarily get easier over time, either, but you'll get better at it. You'll find ways to keep in touch, and when you're finally reunited, it will truly feel like no time has passed. Needless to say, the next time you're feeling totally down in the dumps, don't wait for it to let up. These six cute things will have you feeling better and put a smile on your long-distance best friend's face.
1. Get Retro And Start Being Pen Pals
If you feel the blues coming on, grab your pencil and paper. We're taking it way back and skipping the phone call. Your bestie will appreciate getting a sweet letter amidst all of the junk mail that clutters her mailbox, and it just might start a tradition for the two of you. If you want to send her a greeting card via email, go for it.
2. Make A Scrapbook Of Your Best Memories
Go through your Snapchat memories, Instagrams, and camera roll photos and pick out all of the best shots of the two of you. When you're sad, you can spend time putting together a page or two. By the end, you'll have an amazing gift to give her; just in time for her next visit. Heck, why not make a cute page of your scrapbook on a map to show how distance will never get between the two of you?
3. Netflix Date Over FaceTime
When in doubt, go with the tried and true. If you're feeling down, call up your BFF and plan for a night of watching your favorite TV show and chatting on the phone. You'll be feeling better in no time.
4. Plan A Bestie Vacation
What better way to shake the blues than planning a fun vacation someplace tropical? Once you have the ultimate location picked out, start each day by sending a countdown over to your bestie. It will be here before you know it.
5. Make Her A Surprise Care Package
If you're feeling sad, chances are, she's missing you too. Lift her spirits (and your own) by putting together a killer care package with all of her favorite treats. Just imagine her face when she gets the surprise, and you'll be feeling better in no time.
6. Leave Her A Voicemail
If all else fails, it's time to reach out to the person who knows you best. If she's too busy for a call, go to the second best option. Leave her a voicemail, tell her about your day, and rest assured knowing she'll give you a call back when she can.